Electrical Contracting News Feature
Date: 29/11/2017


Heavy Duty Fixings for harsh environments
Feature of the month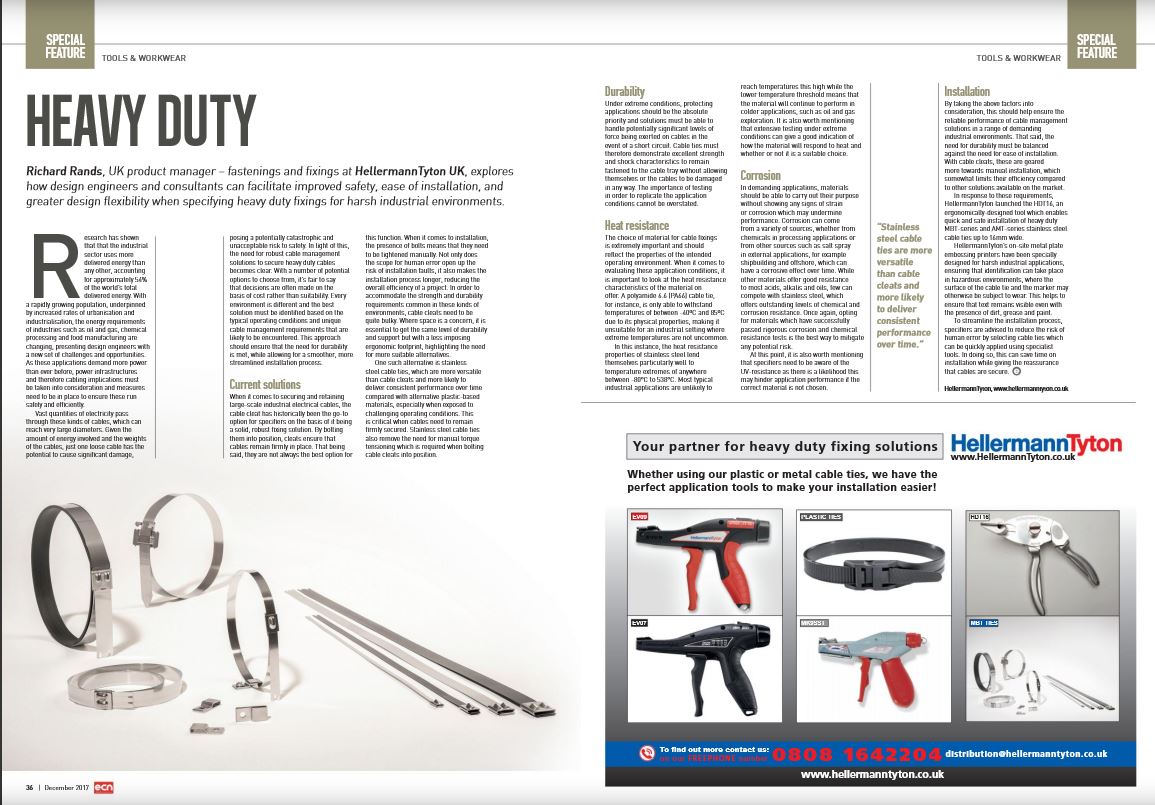 Electrical Contracting News feature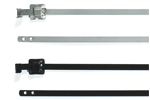 When it comes to securing heavy duty cables in demanding environments, it is essential to understand the specific application requirements and environmental factors that may influence the choice of cable management solution. Richard Rands, UK Product Manager – Fastenings and Fixings at HellermannTyton UK, explores some of these considerations, explaining how design engineers and consultants can facilitate improved safety, ease of installation, and greater design flexibility in the solutions that they specify.
Research has shown that that the industrial sector uses more delivered energy than any other, accounting for approximately 54% of the world's total delivered energy. With a rapidly growing population, underpinned by increased rates of urbanisation and industrialisation, the energy requirements of industries such as oil and gas, chemical processing and food manufacturing are changing, presenting design engineers with a new set of challenges and opportunities. As these applications demand more power than ever before, power infrastructures and therefore cabling implications must be taken into consideration and measures need to be in place to ensure these run safely and efficiently.
Vast quantities of electricity pass through these kinds of cables, which can reach very large diameters. Given the amount of energy involved and the weights of the cables, just one loose cable has the potential to cause significant damage, posing a potentially catastrophic and unacceptable risk to safety. In light of this, the need for robust cable management solutions to secure heavy duty cables becomes clear. With a number of potential options to choose from, it's fair to say that decisions are often made on the basis of cost rather than suitability. Every environment is different and the best solution must be identified based on the typical operating conditions and unique cable management requirements that are likely to be encountered. This approach should ensure that the need for durability is met, while allowing for a smoother, more streamlined installation process.
Current solutions
When it comes to securing and retaining large-scale industrial electrical cables, the cable cleat has historically been the go-to option for specifiers on the basis of it being a solid, robust fixing solution. By bolting them into position, cleats ensure that cables remain firmly in place. That being said, they are not always the best option for this function. When it comes to installation, the presence of bolts mean that they need to be tightened manually. Not only does the scope for human error open up the risk of installation faults, it also makes the installation process longer, reducing the overall efficiency of a project. In order to accommodate the strength and durability requirements common in these kinds of environments, cable cleats need to be quite bulky. Where space is a concern, it is essential to get the same level of durability and support but with a less imposing ergonomic footprint, highlighting the need for more suitable alternatives.
One such alternative is stainless steel cable ties, which are more versatile than cable cleats and more likely to deliver consistent performance over time compared with alternative plastic-based materials, especially when exposed to challenging operating conditions. This is critical when cables need to remain firmly secured. Stainless steel cable ties also remove the need for manual torque tensioning which is required when bolting cable cleats into position.

Durability
Under extreme conditions, protecting applications should be the absolute priority and solutions must be able to handle potentially significant levels of force being exerted on cables in the event of a short circuit. Cable ties must therefore demonstrate excellent strength and shock characteristics to remain fastened to the cable tray without allowing themselves or the cables to be damaged in any way. The importance of testing in order to replicate the application conditions cannot be overstated.
Heat resistance
The choice of material for cable fixings is extremely important and should reflect the properties of the intended operating environment. When it comes to evaluating these application conditions, it is important to look at the heat resistance characteristics of the material on offer. A Polyamide 6.6 (PA66) cable tie, for instance, is only able to withstand temperatures of between -40ºC and 85ºC due to its physical properties, making it unsuitable for an industrial setting where extreme temperatures are not uncommon. In this instance, the heat resistance properties of stainless steel lend themselves particularly well to temperature extremes of anywhere between -80 °C to +538 °C. Most typical industrial applications are unlikely to reach temperatures this high while the lower temperature threshold means that the material will continue to perform in colder applications, such as oil and gas exploration. It is also worth mentioning that extensive testing under extreme conditions can give a good indication of how the material will respond to heat and whether or not it is a suitable choice.
Corrosion
In demanding applications, materials should be able to carry out their purpose without showing any signs of strain or corrosion which may undermine performance. Corrosion can come from a variety of sources, whether from chemicals in processing applications or from other sources such as salt spray in external applications, for example shipbuilding and offshore, which can have a corrosive effect over time. While other materials offer good resistance to most acids, alkalis and oils, few can compete with stainless steel, which offers outstanding levels of chemical and corrosion resistance. Once again, opting for materials which have successfully passed rigorous corrosion and chemical resistance tests is the best way to mitigate any potential risk.
At this point, it is also worth mentioning that specifiers need to be aware of the UV-resistance as there is a likelihood this may hinder application performance if the correct material is not chosen.

Installation
By taking the above factors into consideration this should help ensure the reliable performance of cable management solutions in a range of demanding industrial environments. That said, the need for durability must be balanced against the need for ease of installation. With cable cleats, these are geared more towards manual installation, which somewhat limits their efficiency compared to other solutions available on the market.
To streamline the installation process, specifiers are advised to reduce the risk of human error by selecting cable ties which can be quickly applied using specialist tools. In doing so, this can save time on installation while giving the reassurance that cables are secure. In response to these requirements, HellermannTyton has launched the HDT16, an ergonomically-designed tool which enables quick and safe installation of heavy duty MBT-Series and AMT-Series stainless steel cable ties up to 16mm wide.
Furthermore, HellermannTyton's on-site metal plate embossing printers have been specially designed for harsh industrial applications, ensuring that identification can take place in hazardous environments, where the surface of the cable tie and the marker may otherwise be subject to wear. This helps to ensure that text remains visible even with the presence of dirt, grease and paint.