HellermannTyton Innovations Van on Tour
Date: 06/06/2017


The Innovations Van is on Tour in the UK this July......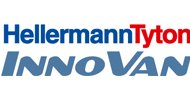 HellermannTyton will once again be taking its Innovan on Tour across the UK to the three locations below. This tour provides hands on experience of innovative products, demonstrations, as well as providing support and training.
The team of UK experts, which boasts specialists in a number of different sectors, will be available to answer any questions customers may have. The InnoVan will be covering a wide range of areas including cable ties and fixings, cable identification, insulation and protection products and installation devices.
Jon Churchley, Commercial Manager at the Cannock UKDC says:
"The InnoVan is a fantastic way for HellermannTyton and customers to discuss any specialist requirements they have, enabling our dedicated team of experts to help find practical solutions. We are also looking forward to sharing HellermannTyton's latest innovations and to providing an insight into future projects we're going to be working on."
Come and visit us at on of the three sites on the following dates:
Cannock UKDC - Wednesday 12th July 2017 - 10am till 2pm
Manchester Factory - Thursday 13th July 2017 - 10am till 2pm
Plymouth Factory - Thursday 20th July 2017 - 10am till 2pm
Contact us for more information
Location plan
How to find HellermannTyton.
Click here to download a map: