HellermannTyton launch a range of RELICON gel cable jointing systems
Date: 08/06/2017


RELICON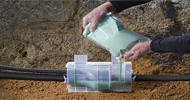 HellermannTyton have launched a range of gel cable joints RELICON
Professional Electrician and Installer feature this innovative product in their magazine.
Should you choose gel or cast resin cable joints? Steve Slater, HellermannTyton's UK Product Manager - Electrical Installation, offers some pointers.....
JOINT DECISIONS
Connecting cables is a basic skill for electricians and over the years most develop their own preference for creating insulating and protecting cable joints. Naturally these may vary according to the current and environmental factors involved, but in many cases when sealing and protecting a cable joint it is possible to choose between several options, of which gel and cast resin jointing kits are among the most popular.
Click here to read the full article which appears in Professional Electrician......