Autotool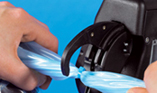 AT2000
Fully automatic tying of 2.5mm width ties which can bundle up to a maximum diameter of 20mm - in less than a second. This suystem can be hand held or bench mounted with foot pedal operation. Used for the manufacture of wiring harnesses and wire assemblies, pipe assemblies and many packaging applications. The waste tails are collected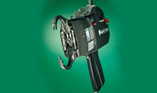 ATS3080
This system actually produces the tie as it bundles from a separate reel of scrap and another with tie heads on a reel. Therefore there are no scrap tails as the end of the end previously fitted is the beginning of the next tie. Tie scrap is 4.5mm wide with outside serrations and the tool bundles up to 80mm diameter.
About our Product Manager
Kevin Bunfield
UK Product Manager for Autotool tying
With over 20 years at the company, Kevin has previously occupied a number of roles including Area Sales Manager and Product Manager for Stainless Ties. He has been supporting Automated Tying since 1998 with regard to ensuring the provision of good technical support and sales strategy in markets where the tools are used - ranging from electronics through to harness building and many types of packaging.