E4500 Gas Powered Hot Air Cordless Tool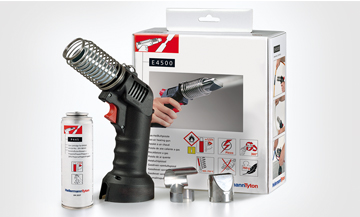 The E4500 gas powered hot air portable heat tool is ideal for working in cramped spaces or where there is no power supply. The kit includes a E4500 hot air tool with protective spring, gas cartridge (P445), reflector nozzle Z2 and flat nozzle Z3.
It is suitable for shrinking all type of heat shrink products including tubing, shapes and cable repair sleeves. It can also be used for the bending and shaping of PVC pipes, soft soldering of copper pipes, drying, defrosting (of locks) heating and paint stripping.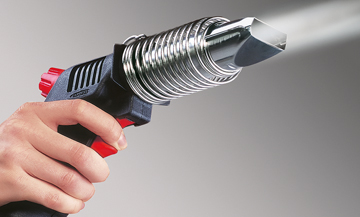 Features and Benefits
Cordless hot air gun works with special gas cartridge
Do not need power supply
Suitable for outdoor use
Designed for heat shrink tubing, end caps and moulded shapes
Light weight tool
Supplied with protective spring, two nozzles and a gas cartridge
Can be operated on its stand for hands free use
Operating time of cartridge is approx 1.5 hours
With easy Piezo ignition