HELAHOOK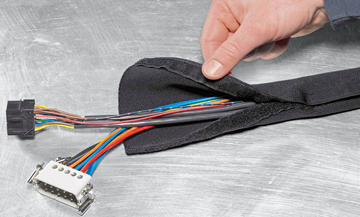 Key Features

The dense fabric of HELAHOOK offers reliable protection against abrasion and other environmental influences.

HELAHOOK cable protection is particularly stretchy and elastic so that a tight fit is ensured by the cable bundle.

With the Velcro to HELAHOOK it is easily assemble and can also be attached to already installed cables. Therefore, HELAHOOK cable protection in many applications, a sensible alternative to braided sleeving.

HELAHOOK also has very good fire protection properties and meets the requirements of NFF16-101 and UL94 V2.

HELAHOOK cable protection is supplied flat on role, allowing a simple and space-saving storage.
Applications

HELAHOOK cable protection is used in the manufacture of industrial machines, electrical appliances, shipbuilding, aviation, railway vehicles and in the aerospace industry, as well as in the assembly of cable harnesses. HELAHOOK is the ideal solution for post-termination cable organisation and wherever repeated use is a necessity.



Features & Benefits:
Re-sealable cable protection made of polyester
Very elastic, fits snugly around the cables
Hook and loop sealing system can be used for retro-fitting
High abrasion-resistance
TYPE

Bundle

Max

Bundle

Min

Reel

Length

Article

No.

HELAHOOK 10
3.0
15.0
25m
170-05100
HELAHOOK 15
10.0
20.0
25m
170-05150
HELAHOOK 20
15.0
30.0
25m
170-05200
HELAHOOK 25
20.0
40.0
25m
170-05250
HELAHOOK 30
25.0
50.0
25m
170-05300
Require more information? Please enter your details in our contact form opposite and someone will get back to you.