Printed Cable Ties
In today's ever changing business environment there is now a greater emphasis on having identification, traceability and audit trail systems in place to help operate both effectively and efficiently, while ensuring legal compliance.

As one of the world's leading manufacturers of cable ties, HellermannTyton do not manufacture cheap inferior cable ties but we offer the widest range of superior quality ties at very competitive prices to meet all requirements. We pride ourselves on our technical know how to produce high quality cable ties for many applications. Whether you need to identify pipes with 'GAS' or 'WATER' or cables with 'LIVE' or 'NEUTRAL', we are able to provide a simple, cost effective printed superior cable tie solution.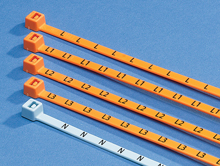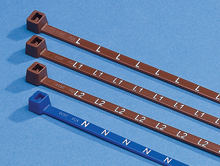 Our most popular printed ties are those that are sequentially numbered. These are used to provide traceability and create an audit trail. This can be for a variety of applications from sealing bags containing important documents that are waiting to be shredded, to the most popular application of sealing bags that contain clinical waste in hospitals. These ties can be custom printed to include a company name, location or specific department. Our expertise has also enabled us to offer more bespoke solutions for highly critical environments that demand engineering polymers or even stainless steel.
HellermannTyton also manufacture printed cable ties for metering installation purposes: Light Blue Printed N, Dark Blue Printed N, Orange Printed L, L1 & L2, Brown Printed L1, L2 or L3 ask our customer service department for further information on printed cable ties.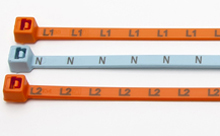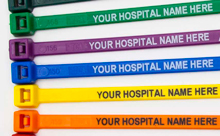 We supply our printed identification ties to clients in the following areas: Aerospace, Oil & Gas, Defence, Utilities, Healthcare, Food Processing, Agriculture and companies carrying out servicing and calibration.

With HellermannTyton's extensive printed cable tie manufacturing knowledge, backed up with our identification expertise you can have all the following benefits and more:
• Easily identify cables, pipes, tools, equipment, packaging, assets
• Printed ties to customer requirements, names, months, dates, alpha-numeric sequential numbering,
data matrix barcoding & logos
• Wide range of cable tie materials including PA66, Metal detectable, PEEK, SS316 or SS304
• Available in various colours (PA66 only)

For more information contact our sales desk on + 44 (0) 0161 945 4181.