Panel Labels
Thermal transfer engraved plate replacement labels
Panel Labels are durable adhesive labels especially made from a thick material that is designed to replace traditional engraved plastic plates. The white and silver glossy colours are suited to industrial control panels, switchgear, data racks, and general equipment labeling.

Easily print on TT4000+ and TT430.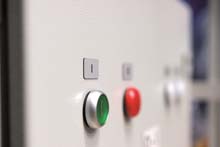 Ideal replacement for engraved plates: panel labels.
Features and Benefits:
• Cost effective replacement for engraved plastic plates
• High performance adhesive and compressible foam backing ensures optimal adhesion to uneven surfaces if required
• Rounded corners ensure better long term durability of adhesion
• Wide range of sizes to suit most commonly installed equipment
• Print high contrast text and barcodes
• Print 'On Site' not order 'Off Site'
• Special sizes and colours are possible on request
• Tagprint Pro label printing software available