18th Edition Wiring Regulations
Date: 28/09/2017


HellermannTyton welcome the 18th Edition Wiring Regulations but insist more could be done.
A major manufacturer of cable management solutions has pledged its support to proposals for the BS 7671 18th Edition of the Wiring Regulations, but called for greater clarity and enforcement of these guidelines.
Although it is satisfied to see further legislation introduced pertaining to protection against fire risks, HellermannTyton believes that more needs to be done to make installers aware of the regulations, claiming that some electrical engineers are still not fully aware of compliance.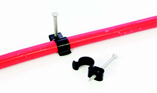 Jasmina Prill, Associate Product Manager - Fastenings & Fixings at HellermannTyton, commented: "The 17th Edition Regulations signalled a major move towards electrical fire protection by stating that cabling in escape routes must be supported by fire resistant fastenings and fixings, which are not liable to premature collapse when exposed to extreme heat. This advised against the use of plastic cable clips, which tend to disintegrate when exposed to high temperatures.
"Although this legislation is encouraging, the term 'escape routes' is still quite vague and many installers are unsure what is meant by this term. It could refer to corridors, kitchen areas, back-of-house rooms, and even windows. More specific guidance would certainly help installers to become more compliant."
HellermannTyton also believes that the legislation should be more heavily enforced, and action taken to deter installers from overlooking compliance. Metal Nail Clips, a product designed and manufactured by HellermannTyton following the introduction of the 17th Edition Regulations, are an effective fire-proof alternative to plastic clips. The regulations, which will be widened on July 1st 2018 to cover all areas of a building, are in place to lower the risk of entanglement with cables in the event of fire
"You can understand why financially stretched installers would just install the cheapest material available and not follow regulations to the letter, particularly when legislation is not rigorously enforced and there is nothing in place to prevent the use of plastic cable clips in escape routes," Jasmina Prill continued.
"At HellermannTyton, we do our best to educate installers on best practice by including all relevant legislation details on our product packaging, as well as running sessions around this from the HELLERMANNTYTON ACADEMY. To ensure full compliance through, legislation really should be enforced more strictly."
The 18th Edition of the Wiring Regulations is expected to provide further guidance on fire resistant installations, mandating the installation of arc fault detection devices (AFDDs) to mitigate the risk of fire in final circuits of a fixed installation, because of arc fault currents.
HellermannTyton is continuing to evolve its range of fire-resistant fixings and fastenings in line with legislation and is currently working on producing different sized metal nail clips for multiple applications. The business offers a wide range of products which adhere to legislation including metal cable ties, cradle clips, and P-clips.