Fire Detection and Safety
Date: 27/06/2017


Metal Fire Clips
Metal fixings for escape routes in buildings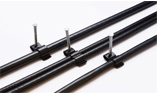 Special Feature on Fire Detection and Safety in Electrical Contracting News July 2017.
CLIP ON TO SAFETY
Ever since 2005 when two firefighters lost their lives tackling a fire in a block of flats in Stevenage after one became entangled in electrical cabling, the industry has been moving towards metal cable clips as an alternative to plastic. This event also led to the amendment of BS7671 of the Electrical Regulations, a body of legislation which states that wiring systems should be supported in such a way that they will not collapse in the event of a fire. This is particularly relevant for escape routes. However, while the industry has been forced to adopt metal fixings for public buildings in line with this legislation, these rules do not cover commercial buildings, where plastic cable clips are still being used in earnest. Jasmina Prill, Associate Product Manager for fastenings and fixings at HellermannTyton, looks at why metal cable clips should become best practice for industry.

Under BS7671 of the Electrical Regulations, cabling in public buildings must be supported by fire resistant fastenings and fixings, which are not liable to premature collapse when exposed to extreme heat. This means that plastic cable clips, non-metal cable ties and plastic trunking to support wiring systems are no longer compliant with electrical standards. Instead, these new rules address the greater need for safety when it comes to cable management and support in or near escape routes. It is now the responsibility of the electrical contractor to ensure that all cables and associate trunking conduits and cable trays are securely attached to suitable fire resistant parts of the building fabric using non-combustible fixings. Whilst this is now mandatory for public buildings, electricians should be making the best practice for all projects, particularly for commercial projects.

Plastic Vs Metal:
A heated debate
One of the strongest arguments for the use of metal nail clips is the improved safety that these provide when compared with plastic clips. Products such as HellermannTyton's new metal nail clip for example, can withstand temperatures of well over 1,000oC whilst the melting point of plastic is typically 170oC. This means that plastic clips will melt and give way in the event of a fire far more quickly than metal clips, resulting in the release of electrical cables which are then exposed to contact.
Back in 2005 after firefighters tackled a blaze in Stevenage an investigation found that one of them had cable insulation stuck on the palm of his glove, indicating he had attempted to untangle himself from electrical cabling that had fallen as a result of the plastic cable ties in the building melting.

Regardless of the type of project being worked on, installers are advised to seek products which meet high standards of fire resistance, particularly for escape routes and areas that may be at risk of fire. It's also important to look at how the fixing is embedded into the building structure as you may need to use metal products for more than just the cable tie, for example within cable mounts and other supporting fixings. There is no point installing a metal cable tie or clip if the wall plug connected to it is comprised of plastic, as the plug could still collapse and put lives at risk.

Adhering to modern
methods of construction
With the rapid pace at which new buildings are being constructed as modern methods of construction such as modular continue to grow in popularity, electrical engineers and installers are finding the time they are allowed on site decreasing. As a result, there is a growing demand for cable tie applications and fixings that are quicker and more convenient to install.
For many electricians, the plastic P clip is the default application for permanent or semi-permanent cable fixings. Whilst this product is ideally suited to floorboards and applications where there is no risk of ceiling collapse in the event of a fire, they do not comply with BS7671 standards. Of course, their comparatively lower cost makes them popular and the secure fastening they provide is making a huge difference to the electrical installation industry. However, for certain applications, such as escape routes, they can take longer to install than metal alternatives. With both metal and plastic P clips an electrical installer needs to feed the cable in through the P part of the clip before nailing it through with a hammer. When installing a metal cable clip however, installation time is reduced since you only have to position the clip and nail it through – there is no need to manually thread it through the P. This may not seem like much of a time saving but if you multiply this by the number of times you would typically install the product on an average job, it can add up to make a big difference for project based times.
Resisting the urge
to continue bad habits
It is also important to consider the type of wear and corrosion resistance that every individual application requires before specifying plastic or metal. For example, some plastic ties and clips are unsuited to applications requiring high structural strength, such as heavy equipment components and certain building materials. It also has a low resistance threshold for corrosive elements when compared with metal. For areas where moisture is a concern, such as near to windows or doors, metal cable clips or fasteners are more suitable, as they are a bit more resistant to water, extreme temperatures and even dirt ingress.

HellermannTyton's metal nail clip was originally designed for the telecoms sector. As a result, there was a real demand for the clip to be fire resistant, whilst also offering ease of installation. Upon identifying the opportunity to use this product for escape route cabling following the introduction of BS7671, it rapidly became a valuable addition to HellermannTyton's extensive range of metal fixing products, with particular interest coming from the retail industry.

Of course plastic cable clips are still important and have a vital role to play in the majority of projects that an electrical installer will carry out day to day, but whilst they play a crucial role in building infrastructure, they are no longer suitable for escape routes. Yet many installers still use plastic cable clips in this context because BS7671 of the Wiring Regulations only cites public buildings as an area where plastic is no longer suitable.

With the electrical market growing as manufacturers of cable management products, engineer products that are easier to install, professionals are increasingly trading on their reputation. As metal is now considered best practice in public buildings, the same approach should be applied to any project where escape routes require cabling. After all, any structure carries a risk of fire and it is the electrician's responsibility to minimize this risk as much as possible. Plastic may be the cheaper, more convenient, and commonplace solution, but for certain applications it will not always be the most effective. To improve standards of the electrical engineering industry, regulations such as BS7671 need to be understood and carried out, with best practice applying to all types of building. Only by respecting these regulations and understanding the importance of using high quality and approved products for every application can the sector confidently state that it is always helping to make buildings as safe as they can possibly be.

The BS7671 regulation will possibly be widened to not only include escape routes but all wirings in the future.