New Fluorescent Releasable Cable Ties
New Addition to the REZ-Series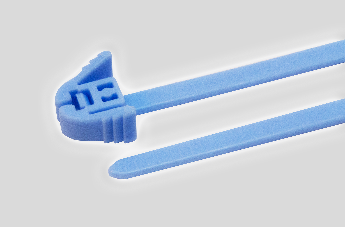 HellermannTyton's REZ-Series cable ties provide the perfect fastening solution for temporary applications and are now available in fluorescent colours for clear visibility and identification.
REZ cable ties feature an arrow-shaped head with a unique one-handed release mechanism, allowing them to be opened and removed quickly and easily. Simply by pinching the two wings together, the strap is released and the cable tie can be opened. It's as easy as that!
Standing Out From The Crowd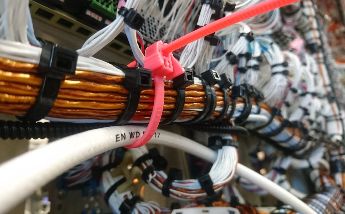 The latest range of REZ200 cable ties from HellermannTyton come in bright fluorescent colours, making them easy to see at a glance.
Initially developed for the aerospace industry for the construction of aircraft, the fluorescent blue and pink ties are designed to stand out amongst a mass of cables, even from a distance. Not only are the cable ties clearly visible in natural light, but simply shine an ultraviolet (UV) light in their direction and they will glow up unmistakably.
The special features of the fluorescent REZ200 cable ties allow them to be easily located and removed once they have fulfilled their temporary purpose.
A Multi-Purpose Solution
Commonly used within the aerospace and automotive industries for temporarily securing cables and wiring harnesses, REZ-Series releasable cable ties are also seen in packaging applications where storage bags need to be opened and closed frequently.
The introduction of fluorescent materials for quick and clear identification now makes the REZ200 perfect for use in dark and dimly lit environments, and other industrial applications.