The Diamond Lock Tie (DLK-Series)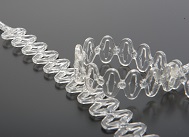 A soft, flexible and versatile fastening solution suitable for a wide range of applications. DLK-Series ties offer an excellent general purpose fastening that is both releasable and reusable, whilst protecting cables from chafing and damage with its soft-grip strap.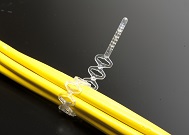 • Quick & easy to apply – automatic self-locking feature making installation
simple
• Provides a strong, durable fastening – the flexible non-slip design provides a
secure grip for a wide range of applications
• Innovative design allows full adjustment once applied – can also be released
quickly and easily
• Good UV resistance – suitable for both indoor and outdoor use
• Flexible fastening options – can be applied in a single or double loop
orientation, or for multiple bundles
• A robust solution - excellent strength, tear resistance and stability against
solvents and abrasion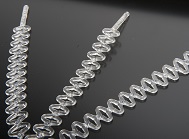 • Securing cables and wiring harnesses during transportation or movement
• Protective fastening solution for data cables or for securely holding soft bundles

• Ideal for general purpose or temporary applications that require a releasable fastening, or where the addition or removal of cables is required.
| | | | | | | |
| --- | --- | --- | --- | --- | --- | --- |
| TYPE | Width mm | Length mm | Material | Colour | Pack Cont | Article-No. |
| DLK250 | 16.2 | 260 | TPU | Natural (NA) | 20 | 148-00135 |
Contact person
Richard Rands - Product Manager
Sharston Green Business Park
1 Robeson Way
Altrincham Road, Wythenshawe
Manchester M22 4TY
Phone: +44 (0) 161 945 4181
Fax: +44 (0) 161 947 2233
Email:
Richard.Rands@hellermanntyton.co.uk