Metal Fire Clip SSFC2516
New Metal Fire Clip SSFC2516 for mini trunking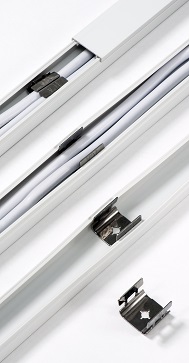 The Stainless Steel Fire Clip SSFC2516 from HellermannTyton provides a fire resistant cable fixing designed for use within mini trunking.

Following changes to the IET Wiring Regulations in July 2015 (BS7671 – 3rd Amendment, 7th edition), wiring systems in escape routes must now be supported in such a way that they will not prematurely collapse in the event of a fire. This means that non-metallic trunking, conduit, cable ties and cable clips can no longer be used as the only means of support in areas that could form escape routes out of a building.

The SSFC2516 metal fire clip complements HellermannTyton's already comprehensive range of stainless steel cable ties and mounts. It provides a quick and easy-to-install fire resistant fixing for 25mm x 16mm mini trunking, ensuring that any new installation will comply with the regulations and increase the safety of firefighters and the public in the unfortunate event of a fire.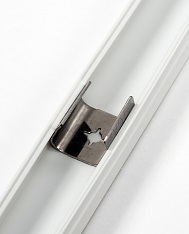 1) Simply push the clip into the trunking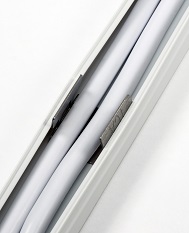 2) Secure with a masonry screw, then feed in the cables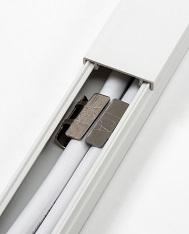 3) Bend over the wings to secure the cables, then fit the trunking lid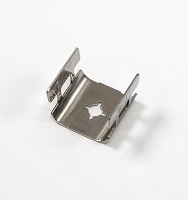  • Suitable for 25 x 16mmm mini trunking
 • Easy to apply without the need for a tool – simply fold the tabs to retain the cables
 • Completely invisible once mounted within the trunking
 • No. 8 (4mm Ø) fixing hole for securing the clip to the building fabric
 • Manufactured from Stainless Steel 430 material
 • Holds cables in position, even in the event of a fire
 • The safest way of securing cables within mini trunking

For more information about HellermannTyton's fire resistant fastening and fixing solutions, or if you require a solution for other types of trunking or conduit, please contact us.
Contact person
Richard Rands - Product Manager
Sharston Green Business Park
1 Robeson Way
Altrincham Road, Wythenshawe
Manchester M22 4TY
Phone: +44 (0) 161 945 4181
Fax: +44 (0) 161 947 2233
Email:
Richard.Rands@hellermanntyton.co.uk
Stainless Steel Fire Clip Datasheet
Please click here to download the datasheet for the metal Fire Clip.