SSPC Stainless Steel Fixing Mounts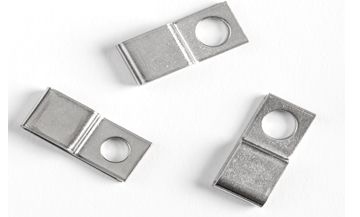 The SSPC Stainless Steel Fixing Mounts for stainless steel cable ties provide a sturdy and durable fastening solution for many applications. With a 10mm track width and a 4mm, 5mm or 6mm mounting holes, this 2-way mounts are quick and easy to mount with a single screw or bolt that provides high traction.

Designed for heavy duty applications and made ​​from a high grade 316 stainless steel material. These screw fasteners are resistant to chemicals, salt spray, extreme weather and corrosion. They are also non-flammable, ensuring a very safe and secure mounting solution.
Application:
Suitable for the secure fixing of cables, tubing, conduits and pipes in the most arduous environments. Providing a complete fastening and fixing solution when used in conjunction with our stainless steel cable ties up to 10mm wide.
They are also ideal for use within shipbuilding, oil and gas (offshore), industrial machinery, vehicles, food and beverage, power, renewable energy and process industries.
Features & Benefits:
2-way fixing for stainless steel cable ties
High performance stainless steel 316 materials
10mm strap width
Single 4mm, 5mm or 6mm fixing hole
Heavy duty design
Robust and durable solution
Resistant to a range of materials and conditions
Quick and easy to install
Safe and secure solution for cables, tubing, conduits and pipes
Ideal for a range of industries and applications
Material: Stainless Steel Type 316
Temperature: -80°C to +538°C
Flammability: Non-flammable
TYPE

Width

(W)

Length

(L)

Hole Dia.

(FH)

Pack

Cont.

Article-No

SSPC4

10.2
23.0
4.2
100
151-00837
SSPC5
10.2
23.0
5.3
100
151-00838
SSPC6
10.2
23.0
6.3
100
151-00839
The SSPC Stainless Steel Mounts can ideally be combined with the following cable ties:
Metal Systems Brochure
Click here to download the Metal Systems Brochure