One Piece Fixing Tie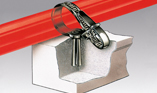 WPT230 - One-piece Wall Plug Fixing Tie with element is ideal for use in the construction industry it can be fixed to brick, cement or wood.
This fixing tie is simple to use just drill an 8mm hole and knock in the peg, it is quick and easy to install and can hold cables, pipes or hoses.
The maximum bundle diameter is 59mm and it is manufactured out of PA66 material and black in colour. It is 8mm wide and 230mm long.
It can be used in construction, electronics or defence industry.
One-piece for fixing to brick, cement or wood
Practical for the construction industry
Time saving and versatile