SolidTack - Strong Adhesive Bases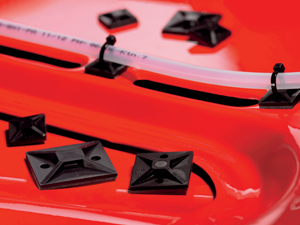 Often, cables and wires must be routed in areas where conventional mounting solutions cannot be used. Especially on painted surfaces, it is often not possible to incorporate attachment points such as screws, bolts or holes. In these cases it makes sense to use an adhesive base.

For these applications, HellermannTyton offers SolidTack, the new series of fasteners with special glue on.
Suitable for a wide range of applications on varnished surfaces or plastic or metal in many areas like electrical cabinet, railways, aerospace, automotive and agricultural machinery.
SolidTack elements provide optimum adhesion to difficult surfaces. The adhesive used is a single acrylate mass and has a very good initial adhesion. These products work on a varnished and powder coated surfaces as used in the railway, aviation or automotive industry. They can also be used on plastic covers, cases and parts are used in a variety of other industries.

For use with cable ties, there are three different base sizes available. For direct routing and mounting of flat and round cables, two different cable holders are provided with the SolidTack tape.
Features & Benefits:
MB mounts with homogeneous system of acrylic adhesive
Very good initial adhesion, increase in time
High cohesive strength combined with good weathering resistance
Innovative fixing solution for low energy surfaces like PP, PE or painted/varnished surfaces
Protective, easy peel backing
Cable Tie Mounts with high performance adhesive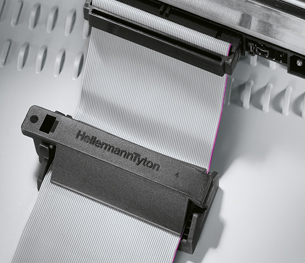 These SolidTack FKH self-adhesive mounts can particularly be used in areas where it is not possible to route cables with conventional fixing solutions. The premium self-adhesive bonds well on high and low-energy surfaces like plastics, metal, varnish or paint and is suitable for a wide range of applications. Our FKH-Series has been specifically designed to guide flat ribbon cables, making it particularly suitable for cable installation in computer systems, gaming machines or domestic appliances.
Features and Benefits
Mount especially developed to hold and guide flat ribbon cables
FKH mounts with homogeneous system of acrylic adhesive
Very good initial adhesion, increases with time
Adhesive with high cohesive strength combined with good weathering resistance
Innovative fixing solution for high and low energy surfaces
Protection foil with finger lift for easy peel off