Secure cables with these fire resistant metal nail clips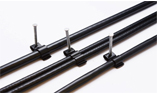 Coated Stainless Steel Cable Clips provide a quick and simple way of securing cables to meet the requirements of BS7671, which imposes the use of metal fixings to secure wiring systems, within the escape routes of buildings.
These fire resistant clips improve safety by assuring that cabling will not collapse in the event of a fire.
These Metal Nail clips meet the requirements of BS7671, 3rd Amendment, 7th Edition.

For fire rated applications it is recommended that the nail is secured into a hard, fire resistant surface.
Features and Benefits
Designed to secure cables within high temperature environments
Flex design grips the cables and clamps into position, even in the event of a fire
Manufactured from stainless steel 430 coating, making it discrete when fitted within commercial/building environments
Suitable for a range of cable sizes, from 4.5mm to 11.0mm diameter
Quick and easy to apply - simply push the clip over the cables and hammer into position
Integrted hardened steel nail pre-fitted to clips to ensure a secure fixing to the building fabric
Nail dimensions 25mm x 2.5mm
Meets the requirements of BS7671, 3rd Amendment 7th Edition
| | | | | | | |
| --- | --- | --- | --- | --- | --- | --- |
| TYPE | L (mm) | W (mm) | Hole Dia | Colour | Pack | Article No |
| SSNC4.5 | 14.3 | 7.0 | 2.5 | Black | 50 | 151-01599 |
| SSNC4.5 | 14.3 | 7.0 | 2.5 | White | 50 | 151-01604 |
| SSNC4.5TWIN | 19.0 | 7.0 | 2.5 | Black | 50 | 151-01602 |
| SSNC4.5TWIN | 19.0 | 7.0 | 2.5 | White | 50 | 151-01606 |
| SNC7.0 | 16.9 | 7.0 | 2.5 | Black | 50 | 151-01603 |
| SSNC7.0 | 16.9 | 7.0 | 2.5 | White | 50 | 151-01607 |
| SSNC11.0 | 20.5 | 7.0 | 2.5 | Black | 50 | 151-01609 |
| SSNC11.0 | 20.5 | 7.0 | 2.5 | White | 50 | 151-01609 |