A large step forward in cable protection: HelaGuard Flexible Conduits and Fittings
HellermannTyton has made a major new addition to its range of cable protection products with HelaGuard, its new line of innovative plastic and metallic conduits and fittings. The size and diversity of the HelaGuard line is especially impressive. With a wide range of plastic and metallic conduits in different materials, thicknesses and diameters, and fittings available with every shape, thread and IP class HellermannTyton can address every customer need with the appropriate solution.
HelaGuard convinces with its wide product range
Particular notable is the width of HelaGuard product range: With a lot of non-metalic and metalic conduits in different materials, types and diameters HellermannTyton covers each need for
cable protection
. Appropriate fittings in different types, threads and high IP-classes are naturally avaliable.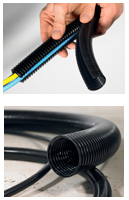 HelaGuard non-metallic conduits
The self-extinguishing, halogen-free HelaGuard plastic conduits are mainly preferred when lighter, more flexible conduits with good corrosion
resistance are required. Made in standard, light and heavy versions, the PA6 conduits are used in many industries and industrial applications.
Also available as PA12 or flame retardant PA6 conduit. For retrofitting in wiring panels or machines, HelaGuard includes double slit conduit.

HelaGuard non metallic fittings
The well-engineered fittings offering ultimate quality. Quick and simply assembled, the one piece fittings persuade with exellence tensile strength. All HelaGuard fittings type HG achive IP protection class IP66. If a higher protection grade is needed choose HGL type fittings, which fullfill IP class IP66 to IP68 and IP 69k.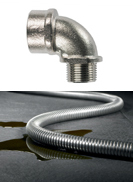 HelaGuard metallic conduits conduits and fittings
Also for extreme conditions HellermannTyton offers flexible and robust
metallic conduits
conduits. They are made from thick and therefore strong steel. HelaGuard
metallic conduits
are, high impact and beat resistant and high tensile.
For machinery tools and outdoor installations Hellermann Tyton offers
metallic conduits
with different plastic coatings for a wide diversitiy of demands and applications.
HelaGuard Steel Conduits with liquid tight cover and fittings with protection class IP68 are recommended for outdoor applications.
If high abbrasiation resistance, protection of hot metall swarfs and EMI protection is a task HelaGuard Steel Conduits wtih steel overbraid are applicable.