Autotool 3080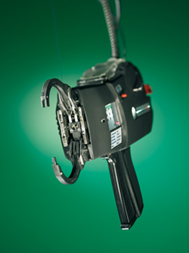 By assembling the ATS3080 into different devices the tool can be customised for various customer applications. For example with the horizontal bench mount kit plastic bags can be closed in seconds. Also, because of the unique closing mechanism the plastic tie closing the bag can serve as a tamper evident seal and is compatible material for recycling.

For products with special requirements of cable tying e.g. a binding at an exact position, the HellermannTyton development department can design and supply special jigs for the ATS3080.

HellermannTyton developed an innovative solution for harnesses in the Automotive industry. With the AT3080 it is now possible to fasten fixings, also known as foot parts, at the same time as the automatic binding. This simplifies the final assembly of harnesses, because the pre-assembled harness can be fixed directly to the metal edge or into a hole. This means that you can now produce a complex harness completely automatically.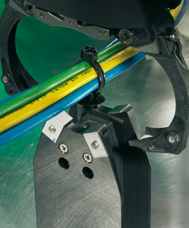 Features & Benefits:
Electrical bundling system from HellermannTyton
Every shot absolutely waste free bindings with a flush cut
No lost time for cleaning or opening waste boxes
Bundling diameter up to 80mm
Processes outside serrated nylon 6.6 strap and closures on 'endless reels'
Outstanding innovation: double play between tool and material
Usable with overhead dispenser or bench mount system
Can be integrated into fully automated production line
Flexible tool especially for Automotive, packaging, white and brown goods industry.
High-capacity tool
Short cycle time (0.8-1.3 sec - depending on bundling diameter)
Jaws available in 3 different diameters: 30mm, 50mm and 80mm
Material available in reels of 500m straps and 5000 piece closures
Weight 1.7kg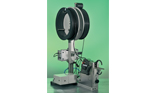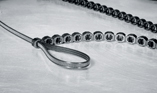 For bundling and securing cables, hoses and pipes or closing plastic bags. Ideal for applications where large volumes of cable ties are required e.g. in cable assmebly, automotive, industrial equipment and packaging sectors.
Features and Benefits:
Innovative strap and closures
Two piece consumable parts
Waste free and optimised material utilisation guaranteed
No time lost through emptying and cleaing waste boxes
Mechanically detected bundle diameter
Flush cut-off fastenings
Outside serrated strap prevents damage to wire insulation
Available in reels of 500m and 5000 piece closures