T.I.P.S.
What is TIPS?
TIPS stands for Thermal Identification Printing System. The system consists of a thermal transfer printer, ribbon, easy to use, Windows based printing software and identification consumables. These consumables are heatshrink sleeving, self-adhesive labels, route markers (TIPTAGS) and non-heatshrink tubing.
The TT4000+ printer is designed for medium to heavy duty industrial applications. The 300 dpi print head fulfils all standard requirements for printing bar codes, waring signs, logos and written information.

An entry level printer the TT430 is suitable for small to medium volume print runs. This machine is compact and light and can be used for identification of goods in the logistics area and marking of cables in the electrical industry.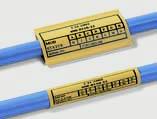 Why use TIPS?
In today's world, there is a need to get more and more information onto cable/wire identification sleeves or labels, and traditional single cable markers are not able to satisfy this demand. With the TIPS products, it is possible to have multiple lines of text with images and even bar codes, and with the simple to use software, creating data tables consisting of hundreds of automatically sequenced idents takes seconds. Existing data tables can be easily imported too. At speeds of up to 200mm/second, printing the sleeves takes no time at all.
The system is ideal for those companies that have large scale, regular cable/component identification projects that would benefit from having their own on-site printing capability due to the complexity/variety of their identification needs.