Q-Series: For easy Pre-Locking and Blind Assembly

Q-Series - The cable tie system with one smart head!

The new Q-Series offers intelligent, innovative fixing solutions with tailor-made components, from pre-locking to long lasting identification.

Q-tie
Cable Tie

The Q-tie is a unique and innovative product for bundling and fixing cables for a wide range of applications. It is available in various colours and materials. The innovative design of the open head tie provides an easy insertion even under difficult circumstances.

Q-tag
Identification Tags


Besides fastening and fixing, the identification of cables is another important aspect of cable management. The Q-tag cable markers can be perfectly used with Q-ties. The tags offer different options for marking:
• manual with marker pen
• with adhesive label

Q-mount
self adhesive/screwable

The mounting bases Q-mounts are an ideal complement for Q-ties. Design and functionality of the mounting bases match perfectly to provide an optimised working process. Different types and sizes are available.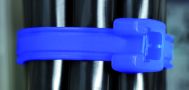 Innovative – Effective – Safe.
The open head design enables simple and quick installation. The integrated pre-locking function of the Q-tie offers the ability of a temporary and also a final cable fastening solution with the same cable tie and without additional effort.
Easy application for every situation.
Q-tie also allows a very quick and simple installation even under difficult circumstances like work gloves and a restricted view.
Q-tags, Identification Tags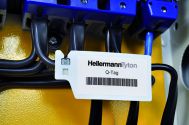 Using Q-ties and Q-tags gives users the confidence that cables and cable bundles are safely secured and the text is highly visible.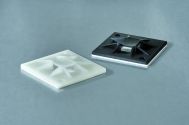 The Q-mounts (4-way entry) in conjunction with Q-ties are ideal suited for accurate routing of cables and wires. The self-adhesive Q-mount QM(A) are the perfect choice if quick assembly is a task. Alternatively the mounting base can be fixed with two screws to route also heavier cable bundles.
Screw or self-adhesive versions
Perfect for combination with Q-ties
4-way entry for Q-tie
Adhesive with high pull-off force
Q-Mount base secures the Q-tie in a vertical position leaving the hands free to apply cables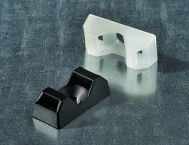 The "2-way" mounting base CTQM has a very slim shape and is a solution if space is a restriction. A countersunk srew fixes the base what is always an advantage if the assembly ground is rough and bonding could be difficult.
2-way mounting base for safe guiding of cables and conduits
For cable ties up to 5mm wide
Uses screw with countersunk head (max dia of head 8mm)
Perfect for combination with Q-ties
Pre-assembly feature
Provides a secure hold with Q-ties, particularly in difficult situations such as vertical mounting positions