Cable Ties with low profile head - Robusto Series
Robusto: The new ecological flange
Robusto cable ties have many technical features which make them suitable for use in many applications for fixing and supporting cables, pipes and other elements. The polyamide 11 used to manufacture these ties offers excellent resistance to chemicals in even the most challenging environments such as offshore, oil rigs, construction vehicles, trucks and trailers.
These cable ties have excellent UV resistance as well as being highly resistant to chemicals like chloride, recommended for use on galvanised steel, expecially on solar panel installation.
In addition, the material has a high impact resistance to low temperatures which enables Robusto ties to be used in areas where it is cold, for example at high altitudes or Nordic countries.
Features and Benefits
Made of polyamide 11, a completely sustainable bioplastic derived from vegetable oil
Outside serrated with a round, innovative head and one or two flexible stop paws
Low insertion force
High tensile strength
Soft material for easy handling without damaging cables
High UV resistance
High resistance to chemicals
Low water absorption rate for consistent technical performance
High durability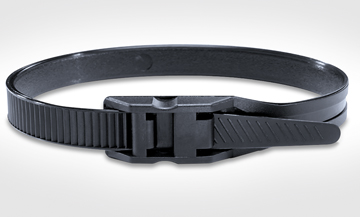 Robusto - The versatile cable tie
Robusto cable ties are characterized by the following technical features.

Eco-friendly cable ties made ​​of polyamide 11


Robusto is made based on a renewable raw material of plant origin.

The cultivation of the raw material castor oil is done on semi-dry crops with the least possible use of pesticides and water. The cultivation of the castor plant does not compete with any food crops.

Polyamide 11 is made from a renewable resource (vegetable origin) and is thus perfectly adapted to the conception of sustainable products.

With this new range of low profile head cable ties, HellermannTyton strives to preserve the environment.

Low Insertion Force - Easy insertion thanks to the softness of the tie and the innovating design of the flat head. No application tool needed.

High Tensile Strength - Strong in every applicaition.


Climatic Resistance - Application well suited for large variations of temperature. High resistance at very low temperatures.

The Robusto cable ties offer, with their diverse technical advantages, a wide range of applications for fastening and fixing of cables, hoses and other components. The material PA11 is characterized by an excellent resistance to chemicals, even under adverse environmental conditions, such as those on oil platforms.

Robusto - the main advantages at a glance.

Flat head geometry:
The flat head design is particularly advantageous in the case of limited installation space.


High UV resistance:
Very good UV-stability of polyamide 11 Robusto ideal for outdoor use.

Pre-locking function - designed to enable the addition of cables, during installation.

Non-hygroscopic material
Mechanical properties of the cable tie remain consistent thanks to low moisture absorbtion of the material.

Resistance to abrasion - Wear on the tie due to rubbing is negligible: the product has a long useful life and excellent durability.

Chemical resistance - Very good resistance to chemicals, particulary to chlorides.

Impact Resistance - high impact resistance, even at very low temperatures.

Softness and Flexibility - smooth bundling and fastening without damaging the cables.
For more information please download our product catalogue, page 70.