Everything in view with the Cable Scout Cam
Cable Scout Cam inspection camera
The Cable Scout Cam is a compact and professional WLAN HD inspection camera, e.g. for conduits, with which you can easily and extensively inspect and document inaccessible areas in drywall construction or electrical installations. The camera transmits video and still images in real time and enables you to easily compare before and after images.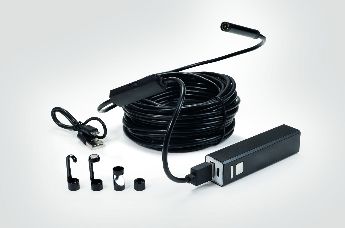 Features at a glance:
• Real time WiFi photo and video transmission
• Android, iOS, Windows, MAC system compatibility
• Free app for Android and iOS
• IP68 protection with camera lens cover on
• 70° view angle
• 4–8 cm focal distance
• 2 mega pixel HD resolution
• Camera head only 8 mm in diameter
• 10 m semi-rigid camera cable
• 2.4 GHz rechargeable WiFi transmitter
• 8 integrated and dimmable mini LED lamps
Watch this video for additional information about Cable Scout Cam.
Further advantages can be found in this PDF
You can also use the Cable Scout Cam in combination with our Cable Scout+ cable rods and accessories.
You have any questions or require further information, simply fill out the form below and give us a short description of your need.
One of our representatives will contact you shortly.