Cable puller tool: clever solutions around electrical installation with Cable Scout+
Cable pulling tool for electricians – install cables in a safe and comfortable way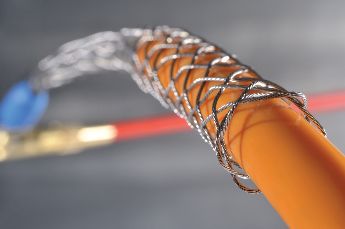 Cable Scout+ is a professional cable puller tool which enables electrical installers to easily route cables, saving time, even with the most challenging electrical installations and hard-to-reach places, as for example spaces between walls.

Cable Scout+ cable pulling tool impresses with its new design and improved functionality. Due to a remodelled grip the wire rods can be easily screwed together. All components, rods and attachments, can be stored in the handy storage and carrying bags. Electricians cable pulling tool is supplied with a range of useful standard accessories. Additional accessories can be purchased separately.

This practical and self-explaining cable pulling tool facilitates the quick and easy installation of wires via suspended ceilings, behind walls, through sub-floors and many other applications.
Product overview
Watch this video to see how easy it is to pull in cables with cable puller tool Cable Scout+ and learn more about fitting accessories:
Cable Scout+ Sets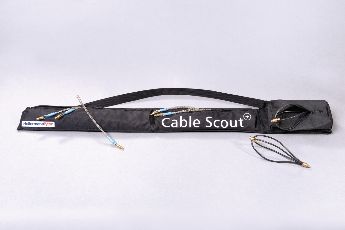 The cable poles are manufactured from high quality Fiberglass, which enables a load carrying capacity of up to 200 kg (approx. 440 lbs). The pulling system Cable Scout+ offers a range of features which allows the electrical installer to illuminate, grip, inspect and retrieve by using the range of accessories.

The pulling system Cable Scout+ is supplied in a useful durable bag which contains the rods and accessories all in one place.
Cable pulling tool: Handy Kit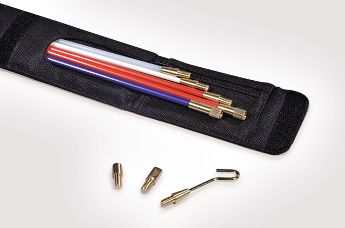 The Handy Set is made up for fitting in a tool box.
It contains:
• 1 tugger x 40 cm length (white), 2 pullers x 40 cm (red) and 1 puller x 40 cm (blue)
• Puller material: Fiberglass (GF)
• 40 cm white flexi lead
• Domed bullet
• Mini hook and mini eye
Cable puller tool: Basic Kit
The Basic Set is designed to perform basic cable installation.
It contains:
• 10 pull rods x 1 m length (white), 15 cm white flexi lead
• Gender changer, tuff hook and mini eye
Cable pulling tool: Deluxe Kit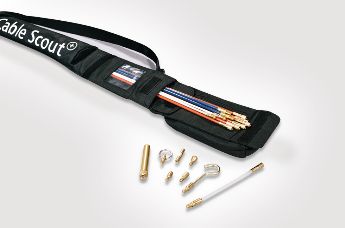 The most cable puller tool Cable Scout+ set is the Deluxe set. This electricians cable puller set is aimed for carrying out larger installations. It contains:
• 2 rods x 1 m (white), 6 rods x 1 m (red), 2 rods x 1 m (blue)
• 15 cm white flexi lead, split ring, gender changer
• Tuff hook, mini eye, domed bullet, flat bullet, beam, single magnet
Electricians cable puller: individual accessories available separately
Inspection camera for empty conduits: Cable Scout Cam
The high-quality, battery-powered Cable Scout Cam is ideally suited for photo and video recordings in the smallest of spaces. It allows you to get a picture of hidden objects at a distance of up to 10 metres, e.g. in empty conduits and above suspended ceilings. The recordings of the inspection camera can be transferred in real time to a smartphone or tablet.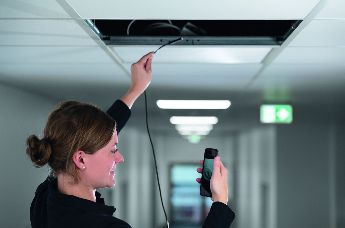 The advantages at a glance:
Sturdy, high-quality fabrication
Wireless image and video transmission via WiFi
Resolution: 2.0 megapixel
Length: 10 meters
Splash proof IP68 lens cover
Dimmable LED light for dark environments
Free app available for Android and iOS
The package includes an WiFi HD camera with a 10 meter cable length, a WiFi station with a battery runtime of up to one hour, a USB charging cable, a hook, a magnet, a mirror and a waterproof lens cover.
With its versatile accessories and high-quality manufacturing, Cable Scout Cam is the perfect Cable Scout+ supplement.
Electricians cable puller: useful add-ons for your work
In addition to an inspection camera, the Cable Scout+ cable puller tool offers a wide range of other useful accessories that make it easier for the installer to illuminate cavities or fasten cables.
Cable Grips, for example, are expanded by pressing them together and then slipped over the object to be fastened. They offer a reliable way of securely fastening cables or pipes. Additional extensions, adapters and accessories make the electricians cable puller Cable Scout+ a universally applicable cable pulling toolfor cable installation.
Features and Benefits:
• Accessory kit includes a lot of useful tools
• User can inspect, illuminate and retrieve
• Cable grips allows a very fast way of pulling cables
• Easy Push-Pull: whisk / cable glider slides gently over obstacles
• LED Beam brings light into the dark
• Strong magnet lifts metallic tools up to 2.5 kg weight (approx. 5,51 lbs)
1. Cable Grips are available in five different sizes to attach a wide range of cable diameters.
You can choose between two options:
2. The whisk allows the rod to glide over obstructions easily.
Thanks to its special design, cables can be comfortably pulled even over rough and uneven surfaces.
3. The Cable Scout+ Beam – a perfect tool for seeing into cavities.
The useful LED flashlight allows inspection of dark work areas. This is powered by an ordinary AAA battery.
4. The strong magnet lifts a metallic tool of up to 2.5 kg.
In addition to cables, this also makes it easy to pull heavier metallic objects.
TYPE
Description
Article-No.
CS-SA

Accessory Kit: Includes a 15 cm long flexi lead, gender changer, mini hook, tuff hook,
mini eye, split ring, round bullet, flat bullet, single magnet, chain

897-90004
CS-ACG1630

Cable Grip: Suitable for diameter 1.6 - 3.0 cm

897-90027
CS-ACG0415

Cable grips: Suitable for diameters 0.4 - 1.5 cm

897-90026
CS-AW

Whisk / cable glider: Enables cables to glide over rough and uneven surfaces, easy pull

897-90018
CS-AB

Beam: Useful for inspection purposes in dark surroundings, e.g. behind walls

897-90016
CS-AMG2

Strong Magnet: A helpful tool to lift metal tools with up to 2.5 kg weight

897-90015
Cable pulling tool: choose between three different designs
The flexible cable rods made of Fiberglass are simply screwed together and fitted with clever attachments. Three diameters and different bending radii guarantee high flexibility at work.
Cable puller tools in overview
| | | | | |
| --- | --- | --- | --- | --- |
| TYPE | Content Rods | Flexibility | Ø D | Article-No. |
| CS-P6 | One pair of 1 m blue wire puller | strong | 6.0 | 897-90007 |
| CS-PN | One pair of 1 m nylon wire puller | fully flexible | 5.0 | 897-90008 |
| CS-P5 | One pair of 1 m red wire puller | medium | 5.0 | 897-90006 |
| CS-P4 | One pair of 1 m white wire puller | flexible | 4.0 | 897-90005 |
FAQ – Frequently Asked Questions
Where is the cable pulling tool used?
Cable pulling tools are used in the installation or removal of cables in hard-to-reach places as it provides mechanical advantage and leverage to help pull cables through conduits, ducts or other pathways. Here are some common places where a cable pulling tool can be used:
through walls and cavaties
through small access holes in walls
through sub-floors
over suspended ceilings
How do you choose the right cable pulling tool?
The specific tools required for a particular cable pulling task depend on factors such as the type and size of cables, the installation environment, and the distance or complexity of the route. HellermannTyton offers three cable pulling tool sets: the Handy Kit is made to fit in a tool box, the Basic Kit is designed for basic cable installation and the Deluxe Kit is intended for carrying out larger installations. The sets come with cable rods in different lengths and with additional accessories including hooks, magnets, lights and storage bags.
How do you use cable rods?
Before using the cable rods, assess the installation requirements. This includes the distance to be covered, the type and size of cables, any obstacles in the pathway and the necessary load capacity for pulling. Next, select the appropriate cable pulling tool factoring in the weight and diameter of the cable and any specific challenges. Then connect the cable to the pulling tool. Ensure a secure connection to prevent the cable from detaching during the pulling process.
Start the pulling process by applying tension to the tool. As the cable is being pulled, ensure that there is no resistance and the cable does not get stuck. If this happens however, assess the situation and make adjustments accordingly. This may involve changing the angle or direction of the pull or using additional tools or techniques. Continue pulling the cable until it reaches the desired final position.
How do you fasten cable rods, accessories and wires together?
All fibreglass rods and rod accessories from HellermannTyton can be screwed together easily at both ends. Cable grips - and expandable metal sleeve - are often used to fasten cables and wires to pulling rods. The grip can easily be clamped around the leading end of the cable for a secure hold.
What load can the cable pullers carry?
The cable rods are manufactured from high quality fibreglass which caters for a load carrying capacity of up to 200 kg (approx. 440 lbs).