Wire Trunking: Optimum protection for cables and installers
Wire trunking system solutions keep everything in place
They come with blunted edges that protect the cable insulation and make them safer to work with during installation and maintenance. HelaDuct products are used in switch cabinets and switching stations and are very well suited to cables with small cross sections.
With the wire trunking system solution HelaDuct the quality-conscious panel builder:
can manage his cables more securely and effectively
can build a panel that is more orderly and professional-looking, reliable and easier to maintain for the panel-builder's customer.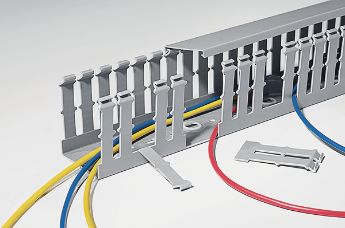 Our wire trunking benefits at a glance:
HelaDuct is a system solution featuring innovative, securely mounted wire retainers for a lasting and tidy result inside the panel.
The smooth, burr-free edges prevent damage to the wire insulation and injuries to fingers and hands.
Burr-free removal of fingers using perforated break points. Wall segments can also be removed burr-free using perforated break points.
The cover stays firmly in place, even under challenging conditions such as vertical installation and strong vibration, for example on a ship, on a train or in a wind farm.
Learn how to organize and secure your wire here:
Learn more about optimum protection for cables and installers here:
Our wire trunking highlights for your panel
The wire trunking range HelaDuct covers a wide variety of widths (15 -150 mm) and heights (up to 100 mm).
All HelaDuct products feature a base perforation according to DIN EN 50085.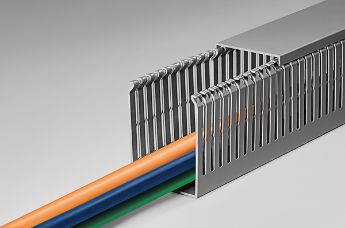 PVC wire trunking available
They are used in control panels, switching systems and especially electronic control systems.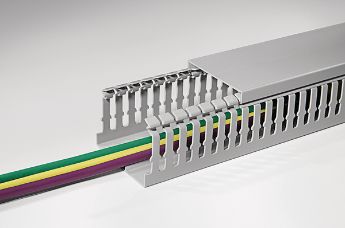 HelaDuct HTWD-HF wire trunking are used in control panels and switching systems where there are high demands on personal or material safety in case of fire, such as in public transport, tunnels, data-processing centers or public buildings.
Main benefits:
Excellent fire-safety characteristics
Narrow slots suitable for small-diameter wires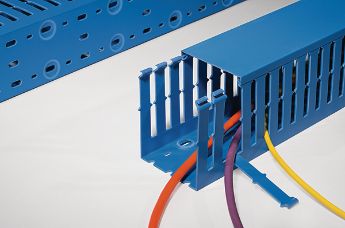 The HelaDuct wire trunking range features the blue ducts HTWD-PWB which are used to identify intrinsically safe wiring, for instance in chemical plants or anywhere where there are explosive environments.
HelaDuct wire trunking retainers and other accessories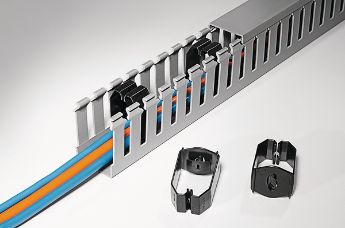 HelaDuct HTWD-BWR wire trunking retainers are quick and easy to mount and hold wires firmly during wiring, especially where the ducts are installed vertically on in the ceiling.
They offer significantly higher secure and robust fixing than conventional solutions with adhesives because they are mechanically affixed to the duct.
Fixing the trunking retainers in the duct is simple. HTWD-BWR retainers are locked securely into place in the duct with light press and twist of a screwdriver.

Main benefits:
Mechanical anchor is exceptionally secure and does not weaken in warm environments
Anchor of retainer remains inside raised mounting point and does not protrude below surface of duct base
Reduces strain on duct fingers especially at corners and eliminates bulging against sidewall
Fits snuggly in duct for minimal loss of installation space
Available for all duct sizes of width and height 40 mm and larger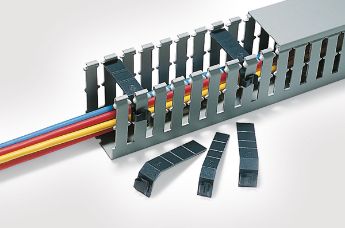 HTWD-NFWR and HTWD-WFWR wire trunking retainers are easily inserted onto fingers and hold wires securely into place when cover is removed.
Main benefits:
Prevents wires from falling out even when vertically routed
One retainer for all duct widths: the retainer can be snapped to desired width perforated break-off points
Vertical position on fingers can be freely adjusted
Does not block insertion of wirings into Slots
Fixing the retainers in the duct is simple. HTWD-NFWR and HTWD-WFWR retainers are simply clicked into place on a duct finger.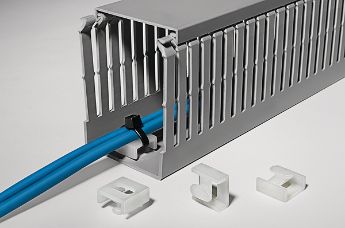 HelaDuct HTWD-CTH is used to anchor a cable tie securely to the base of a duct. The HTWD-TL is used to fix a HTWD-RB rail mounting block to duct in order to mount duct to DIN rails.
Main benefits:
Holds all components firmly in place
Cable tie easily laced through HTWD-CTH
Anchor of mount remains inside raised mounting point and does not protrude below surface of duct base
Click HERE for an overview of all our products for quality-conscious panel builders:
Don't struggle over every cubic centimetre.
Save yourself space and time with our products.
Cable protection
HelaDuct HTWD-PN: Wiring ducts for cables with small diameters. Remove the fins safely and easily using the perforated breakage points. Particularly narrow ribs and slots
HelaDuct HTWD-PW: Wiring ducts for cables with larger diameters.
Helawrap HWPP: The ideal solution for bundling and protecting cables and wires.
HelaDuct Flex: Flexible cable harnesses for clarity in line management, even at sharp angels.

Labelling systems
Panel labels: Low-cost alternative to engraved plastic signs. No additional sign holder necessary and easy to print on site.
WIC: Fast and easy labelling. Also suitable for retrofitting.
Helatag 1209: Resistant labelling with excellent protection against humidity and mechanical abrasion thanks to protective laminate.
IT cable ties: For easily combined labelling and bundling.

Cable tie and fixing systems
Q series: Cable tie system with open tie head offers up to 25 % faster connection with its ease of use.
T50R0SFT6 cable ties: Teeth are placed on the outside, protecting the bundled product, christmas tree fastener enables variable attachment (sheet thickness).

Insulating products
HIS-3: For effective insulation and colour-coding.