Smart RFID tracking solutions for inventory management and other industries
RFID tracking: clever solutions with RFID cable ties and accessories
HellermannTyton has developed a range of RFID ties, accessories and RFID readers to make your RFID tracking and identification processes more efficient.
The variety of applications makes RFID technology so unique:
Increase efficiency in production: Many steps are eliminated because cable ties with RFID tags incorporate several functions – fastening, bundling, labeling, identification product safety , product RFID tracking and much more

Reliably label and identify products also in harsh environments: stored information on the RFID tag remains readable even in extreme production and operational environments at any time

Mark and identify inaccessible parts: RFID cable ties are a reliable alternative when conventional identification such as barcode labels can be read only with difficulty – e.g. through space restrictions or can't be labeled because of material reasons

Support applications in industry 4.0: the purpose of an intelligent factory is almost unlimited. Today cable ties are used in almost every industry - in combination with RFID technology there is great potential for supporting the notion of a Smart Factor
Product overview
What is RFID?
Radio frequency identification (RFID) is a smart solution for identification, serialisation and tracking of products in several areas and industries. Watch this video to find out how RFID works and how it can be applied for industry purposes: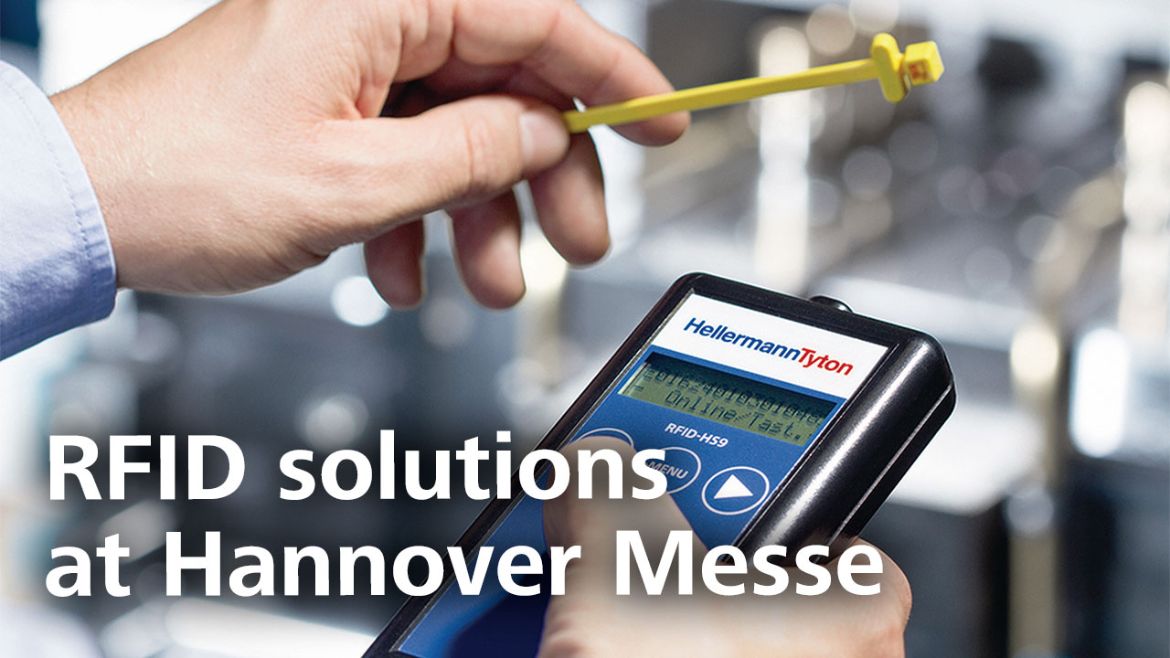 Advantages of RFID tags
Several tasks are combined: the cable tie acts as an information carrier, product label and cable fastening – all at the same time
Unique identification as RFID tag is programmed with unique code
Fast and paperless data collection
Elimination of typing errors in reports
Reduction of working hours due to reduction of paper work
Controlled administration of devices and warehouse
Ability to hold more data than barcodes
Comply with legislation
Easy to share up-to-date information
Manage equipment inspections, maintenance work etc.
Reliable operation in harsh environments, for example wet, dusty, dirty conditions; corrosive environments; vibration and shock
No need for contact or line-of-sight
Learn more about the benefits of HellermannTyton RFID solutions here in this video: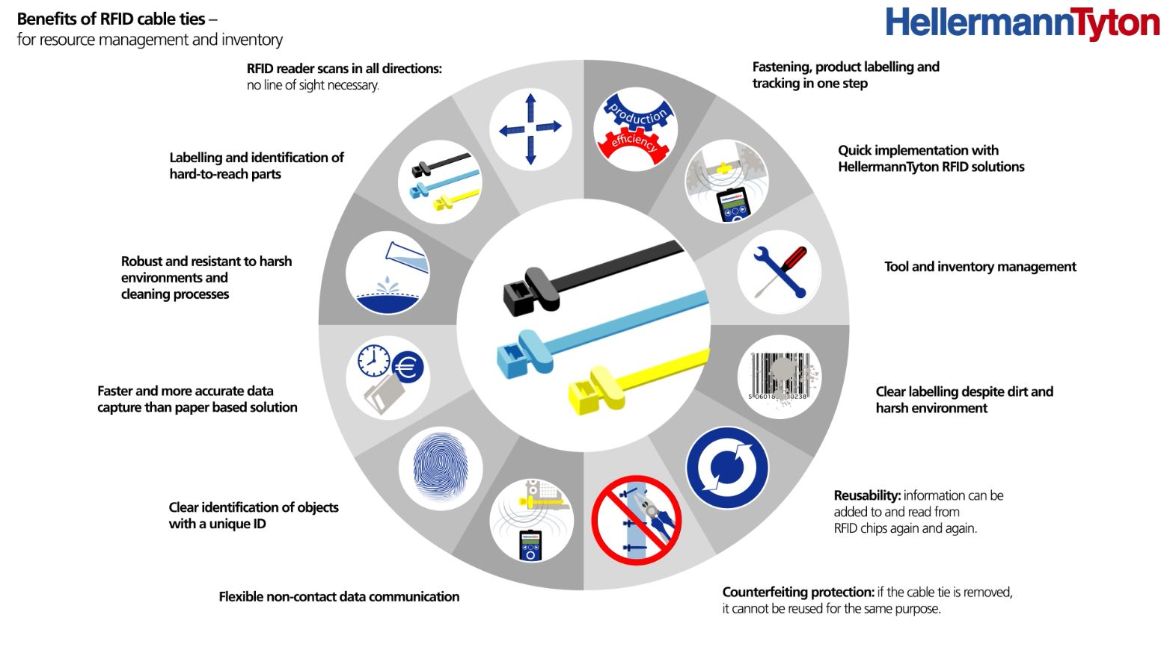 Typical RFID applications in industry
RFID tracking is used in many industries. The combination of material, transponder, reading distance and surroundings decides on the use of it. RFID tags in cable ties are used for applications such as:
Resource and asset management
Theft preventing and traceability
Security tagging
Essential maintenance
Attendance verification and time recording
Leak detection
Baggage tagging
Vehicle identification
Automation processes
There is an ever increasing need by business to ensure the traceability and record-keeping of calibration, location and maintenance requirements to current quality and accreditation standards.
RFID tracking for inventory management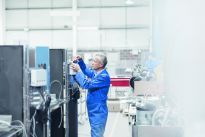 A good example is tracking products for asset management, where RFID systems simplify the identification and management of valuable tools or equipment substantially. For this, the product to be labelled just needs to be fitted with one of HellermannTyton RFID cable ties that has been programmed with a unique code.
You can either link the pre-programmed code with a database or add specific code requirements according to your database needs.
Read one example for RFID tracking of our case studies on our HellermannTyton Blog.
The fact that each component is traceable also benefits the goods receipt. Costs become more transparent, processes along the value stream can be optimized. Product counterfeits are easier to identify. The use of RFID cables makes them completely impossible: once a cable connector is cut off, it can not be reused - because each RFID chip has a unique ID. The RFID cable ties guarantee the authenticity of the information stored on them.
RFID tracking for wind turbines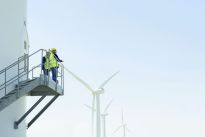 Take an offshore wind farm as another example for RFID tracking. Engineers need to take commonly used valuable equipment with them on site to fulfil repair or maintenance tasks.
In order to manage the inventory and/or e.g. identify the location of the equipment it can be fitted with an RFID cable tie. The programmed information can be linked to a database that serves as an information and management tool for an easy way of tracking the tools.

With the help of NFC technology (near-field communication) the engineer can communicate with the RFID tie by using an app on their tablet PCs. This way it is e.g. possible to check out the equipment prior to the use and check it back in after finishing the job. The big benefit resulting from such a system is the permanent control, which have both users and administrators of these assets.
Read more about this example for RFID tracking in our RFID blog article.
RFID tracking for hazardous enviroment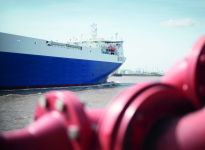 Where conditions in the production facility are extreme, such as heat, dirt and liquids, RFID cable ties made of different materials are the ideal solution.
For example hydraulic service which carries out repairs to hoses. Extreme conditions come together here. A mixture of hydraulic oil, screw solution and dirt blurred the conventional product labelling until it was indecipherable. This was very problematic for the service staff. They could no longer identify which type of hose they were dealing with. What is the maximum pressure load of the hose? When was the hose made and installed? Who worked on it last?
The solution for the service company was to use Hellermanntyton RFID cable ties made of metal, which are not affected by oil or heat.
RFID tracking for construction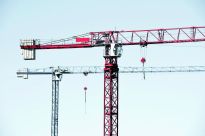 There are numerous other fields of application for RFID tracking, like crane construction. One example: Previous product labels were difficult to access and were no longer readable because several layers of paint were applied at the customer's request. Now using HellermannTyton RFID cable ties for identification the information remains permanently readable as the chip is housed in and can withstand harsh environments or layers of paint.
Read more in our RFID blog article.
RFID tracking for automotive industry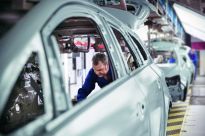 Processes are also simplified and optimised in the case of traceability of components. For example, in the case of defects, recalls or the monitoring of maintenance intervals.
Or for product labelling in general, such as when installing elements in automobiles.
Here, the RFID cable tie also acts as a security measure which is more reliable and involves less effort than conventional labelling solutions. If the cable tie is ever cut off it cannot be reused.
The authenticity of the information on the RFID cable tie as product labelling is therefore guaranteed. This means, for example, you can very accurately trace which employee installed which component with which properties in which factory on which day.
Our products for smart RFID tracking
RFID tracking for inventory management: All HellermannTyton RFID products can be used for securing, serialisation, tracking and identification of products in the areas of resource management, electrical inspection, inventory, distribution and rental services as well as for easy management of maintenance and repair routines.
Nylon cable ties with either high or low RFID transponder – T50RFID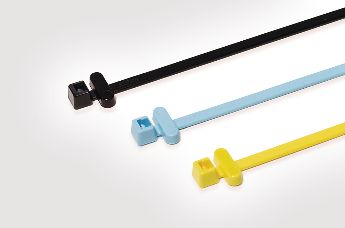 RFID cable ties provide an innovative solution for clear and rapid product RFID tracking.

The nylon cable ties are equipped with an RFID transponder and therefore combine the numerous advantages of regular cable ties with RFID technology.
Metal detectable RFID cable ties with identification tag – MCTRFID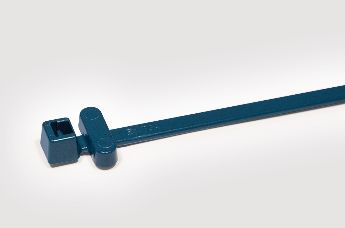 Stainless steel cable ties with HF and UHF RFID transponder – MBTRFID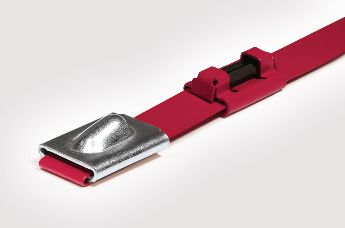 Stainless steel RFID cable ties are fitted with a slide-on carrier for a high frequency (HF) or an ultra-high frequency (UHF) RFID transponder.

These ties are ideal for product identification in all areas of harsh environment where high tensile strength and durability is of importance.
Accessories with RFID transponder for RFID tracking
HEXTAG – High Frequency (HF)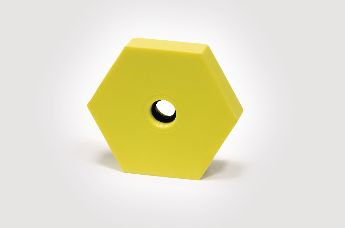 The HEXTAG made from PA66 is equipped with transponder of HF frequency.
The central hole allows a simple mounting in applications where a RFID cable tie solution is not suitable.
CRADLE - High Frequency (HF)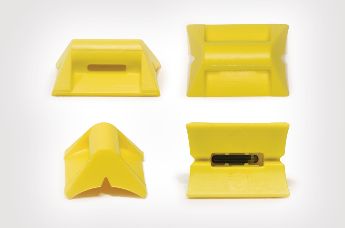 The CRADLE, made of TPU and equipped with a HF transponder can be used on standard HellermannTyton cable ties.
RFID Readers/Writers to improve process reliability and quality
Handheld RFID Reader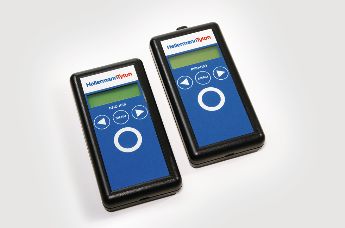 The HS9 handheld RFID readers are designed to read LF transponders and read/write to HF transponders fitted to HellermannTyton RFID cable ties and accessories.

The HS9 reader is available for low frequency (LF, 125 kHz, read-only) and for high-frequency (HF, 13.56 MHz, read & write) transponders.
RFID - Reader - Desktop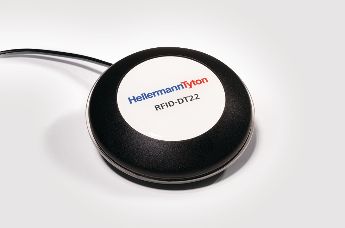 The RFID-DT22 desktop reader for stationary use has been designed to read and write from/to high frequency (HF 13.56 MHz) transponders fitted to HellermannTyton RFID cable ties and accessories.

The readers act as an interface between the RFID transponder and computer systems or databases. Radio waves transmit the data from the RFID transponder to the reader, so that contactless reading and/or writing of information is possible.
FAQ – Frequently Asked Questions
What is RFID tracking?
RFID, or Radio-Frequency Identification, is a technology that allows for the wireless identification and tracking of objects using radio waves. It consists of three main components: RFID transponders or tags, RFID readers, and a backend database or software system. The idea of how to track RFID tags is very simple: the tag contains a microchip holding information about the tagged object as well as an antenna enabling the tag to communicate with a reader. The reader captures the signal from the tag and passes it on to a computer system or software where it is processed.

What is the difference between barcodes and RFID?
Barcodes and RFID (Radio Frequency Identification) are both technologies used for identifying and tracking items, but they differ in their underlying applications.
Barcodes are visual representations of data in a series of parallel lines, typically printed on labels or tags. They are read by optical scanners that interpret these patterns and convert them into a readable format, such as numbers or alphanumeric characters. Barcodes are cost-effective, easy to implement and already widely used.

RFID uses radio frequency signals to identify and track objects. RFID tags can be read even when not directly visible to the reader. They can also store more information than barcodes and since multiple tags can be read simultaneously, RFID is more efficient for tracking large quantities. Also, RFID tags are more robust than barcodes.
Can RFID be hacked?
RFID (Radio-Frequency Identification) technology can potentially be hacked, like any other technology. However, not all RFID systems are equally vulnerable. The feasibility and complexity of hacking RFID systems depend on various factors, including the specific type of RFID technology being used, the security measures in place, and the attacker's skill level. Responsible implementation of security measures can greatly mitigate the risks associated with RFID hacking.
Are RFID tags recyclable?
RFID tags can be reused and recycled. Most importantly, the content saved on the tags can be overwritten and the RFID tags can therefore be used repeatedly. Another key advantage of RFID lies in the use cases. For example, RFID tags can be used to track waste bins. When processing the waste, type, weight, and environmental impact can be tracked. This information could be used to calculate the charge for that bin, thus encouraging the bin owner to change their behaviour to produce less impactful waste.
Can RFID tags track location?
Our RFID tags are passive, meaning they do not have their own power source and rely on a reader's radio signals to activate and transmit their information. These tags generally have a short range, which can range from 1 cm to 9 meters, depending on the frequency of the tag (low, high or ultra-high frequency). They are mainly used for tasks like inventory management, asset tracking, and access control, where the focus is on identifying items close to a reader. It's important to note that traditional RFID systems are not as accurate as GPS for pinpoint location tracking.