Cable tags for industry
Cable identification tags for clear identification and reliable maintenance
Wire tags, continuous and in ladder-style format
Whether in rail vehicle construction, mobile telecoms network expansion, food or other sectors using high volumes of electrical cables, clear identification using cable tags is essential, e.g. for maintenance. The risk of choosing the wrong cable during maintenance work increases if the cables are not marked.
Clear cable identification helps to avoid this type of error and can also improve your ability to maintain cable networks efficiently.
HellermannTyton TIPTAGS are a proven choice here: These cable tags are available in various sizes and colours, suitable for a wide range of cable bundle diameters.
Requirements for cable markers vary widely, depending on the area of application. Therefore, in addition to standard ID cable tags, there are also wire markers made of special materials with special properties.
For example, in addition to UV-stabilised and halogen-free tags, there are also metal-detectable or heat-resistant cable marker tags and those that are particularly abrasion-resistant and stable against chemicals.
Cable markers from HellermannTyton are available on reels: either continuous or in ladder-style format (pre-cut). All wire tags can be easily printed using HellermannTyton thermal transfer printers.
Find the right cable tag for your application now.
Cable tags for special industries
Cable tags for special applications
TAGPU LOOP is a specially designed cable marker for identifying wires and cables without using a cable tie to attach it. The markers are looped on cables and wires from 2.8mm to 8mm, where a permanently legible and UV resistant marking is required. The material has been conditioned for printing on both thermal transfer and laser beam printers.
Benefits at a glance:
"3 in 1" solution: Use just 1 tag instead of 2 cable ties + 1 tag.
Suitable for many industries: solar plants, electrical industries, OEM, hydraulic hoses…
Ideal for harsh environments, as well as indoor and outdoor applications.
Cable tags for the rail industry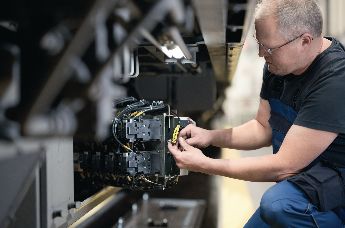 To meet the high fire protection requirements in the railway industry, Hellermanntyton offers you various wire tags that are compliant with EN 45545-2 safety standards.
These cable tags help you optimize maintenance and operations planning to reduce life cycle costs through longer service and maintenance intervals. The reason for this is the quality of the halogen-free, long-lasting materials.
Product highlights for the railroad industry:
TIPTAG HF: ideal for marking larger cables and wires bundles, perforated and with fastening slots for cable ties, printable with thermal transfer printer
TAGLF: identification tags for cable bundle in ladder style, excellent mechanical strength and high flexibility, printable with thermal transfer printer
Take a look at the HellermannTyton thermal transfer printer range here.
Cable tags for the chemical and food industries
Metal content cable ID tags have been developed especially for marking cables and wires in the food and pharmaceutical industries.
These detectable identification tags with approx. 14% metal content help ensure safe, contamination-free production.
These corrosion-resistant markers offer excellent resistance to inorganic acids, hydrochloric acid and halogen salts.
They are quickly and easily embossed with the M-BOSS stainless steel embossing system.
Wire tags for industrial hydraulics
Hydraulic machinery is used in a wide variety of industrial fields. Regular maintenance of the individual components is essential for a fault-free, long-lasting product cycle. With identification solutions from HellermannTyton, you can keep track of hose data at all times.
UV-stabilised cable ID tags suitable for hydraulic machinery and long-life use in outdoor applications:
Cable tags for telecoms infrastructure
The rollout of 5G networks is progressing worldwide. Right in the middle: Identification solutions from HellermannTyton. Customers in the telecommunications sector rely on our versatile wire tags labels.
Two solutions that have proven successful in telecommunications infrastructures are TIPTAG HF (perforated) and TAGLF (ladder style). Both are on reels and are printable with thermal transfer or laser printer.
For optimum printing results on HellermannTyton wire labels we recommend the use of our thermal transfer printer range together with corresponding ribbons.
Halogen free cable tags
Wire tags: limited fire hazard, ladder style
TAGLF cable identification tags are suitable for safety areas with fire protection requirements, e.g.:
public buildings such as airports and hospitals
transportation vehicles such as trains, ships or airplanes
tunnels
The halogen-free material of the TAGLF series has low smoke spread, density and toxicity.
TAGLF marker tags are supplied in a convenient ladder format for simple printing and quick removal of individual tags. The markers can be processed with cable ties up to a maximum width of 4.7 mm.
Cable tags: limited fire hazard, continuous, on reel
Halogen-free TIPTAG HF identification tags are comparable to the TAGLF series (see above) in terms of material properties and areas of application.
Benefits at a glance:
Low smoke dispersion and toxicity
Ideal for labelling larger cable bundles
Perforated format with fastening slots for cable ties
Printable with thermal transfer or laser printer
Available in various colours
Metal detectable cable tags
Wire tags labels made of polyolefin containing metal
TIPTAG MC cable tie tags have been specially developed for marking cables and wires in the food and pharmaceutical industries. Thanks to a metal content of approx. 14%, they are detectable and thus guarantee safe use.
The ID tags are supplied on easy-to-use reels and come in a special perforated format that includes holes for fastening with cables ties (MCT).
Further product details:
Outstanding chemical resistance
High temperature resistant
Printable with thermal transfer printer
Special colours on request
Frequently Asked Questions
What are cable tags?
Cable tags are used for clear, concise cable identification. Cable identification tags are used in both indoor and outdoor applications and are typically attached to a wire or cable bundle with cable ties.
To meet all requirements, there are a wide variety of label materials with different properties. For example, there are wire tags that have excellent solvent and heat resistance, others are metal detectable or endure UV-irradiation.
Cable marker from HellermannTyton are available on reels: continuous or in ladder format (pre-cut and perforated). All cable ID tags can be easily printed using HellermannTyton thermal transfer printers and labelling software.
Are there cable tags for harsh environments?