Broadband Fibre Connectivity
HellermannTyton Broadband Systems – At the leading edge of Fibre Management
HellermannTyton is an established and innovative global leader in the provision of network infrastructure cabling solutions, offering a broad range of quality, high performance connectivity for both residential and commercial use. HellermannTyton's Broadband Systems comprise a unique range of fibre splicing closures for the external and internal plant that you would find in any typical FTTX application.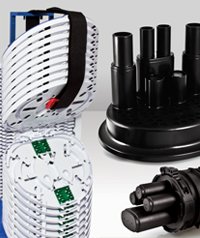 The sealed closures from HellermannTyton protect the fibre management systems from adverse environmental conditions whilst maintaining ready access for effective cable installation. The fibres are housed in space saving modular units that minimise network disruption and have been designed to allow further modules to be added at a later date for increased capacity, ensuring a future proof design.

More customers are demanding maximum flexibility and a modular approach to cable management systems that will fit into existing and future networks. All closures have therefore been designed to cater for this requirement to accomodate the wide variety of fibre optic cables that are now available including slotted core, loose tube, compact, ribbon and blown fibre / cable applications.

The closures have been designed to meet customer's demands for various fibre management systems including single circuit, single element, multiple element and cross connectivity. Tray design is evolving to meet the needs of bend sensitive fibres, for which the Hellipse™ NZDF range has been developed, for increased fibre storage capacity, the ability to change direction of the fibres and to cater for the various types of splice protectors and PON devices that are now available in the global market.

HellermannTyton manufacture a wide range of fibre closures that can be applied across all areas of FTTX applications. Many of the sealed closures lend themselves to a PON architecture allowing up to 864 fibres in the largest UFC closure all the way down to 36 fibres with the FST closure. All of the closures from HellermannTyton offer flexibility and access so that more fibre can be added in the future (up to their maximum capacity). All of the closures are compatible with Cablelok, HellermannTyton's 100% mechanical seal, or heatshrink can be used as an alternative sealing method.
Other Products
These catalogues contain details of our core products, however the Connectivity design team is able to customise products to exact customer requirement where necessary. Please contact our Sales Office for more details.