Cable management: flexible, screwable, self-adhesive, protective – an overview of options for industrial applications
Cable management means safe, organised, space-saving wiring
Cable management is an essential part of the daily work of an electrician or panel builder. With efficient cable management products you can make cables "invisible", reduce risk of injury and save space at the same time.
However, cable management products are not only interesting for the electrician or control cabinet engineer. Facility managers, DIY fans and anyone at home with lots of electrical equipment on the desk or in the living room can benefit from optimum cable management that helps create order, for example by:
Routing cables in different directions
Branching off cables
Protecting cables
Eliminating trip hazards
Cable management solutions
Watch this video to see how to organise and secure your cabling:
Cable management for walls and edges
Wall cable management: with specialised wall plugs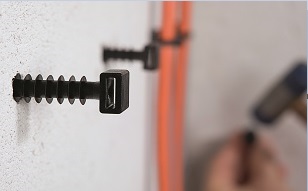 For cable management along walls we recommend our LOK series. These are specially-developed wall plugs. They are ideal for fixing lines in wall cavities at the building stage – as a horizontal or vertical cable manager.
Just hammer securely into pre-drilled holes. The head of the dowel is a cable tie mounting point and ensures simple and effective cable management – even on materials where nail clips often fail.
Further advantages:
Suitable for many materials such as concrete, bricks or wood
LOK01B suitable for soft masonry and 6 mm holes
LOK05 maintains space between the fastened cable and the surface
Cable management with mounting clips: EdgeClip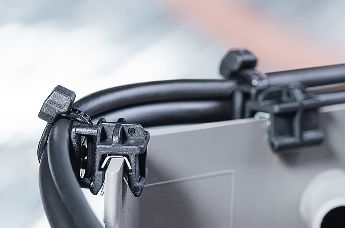 Another quick and easy way to route cables is to use our EC mounting clips. EC stands for EdgeClip. These mounting clips allow you to securely attach cables and wires to panel or component edges without drilling or sticking.
They ensure the flexible, organized routing of cable harnesses, cords or pipes. The EdgeClip withstands high pull-off forces and includes a secure mounting point for cable ties to ensure permanent cable management.
Advantages:
Broad range of variants – cable management possible on, over, or alongside edges
Mounting clips for three edge thicknesses available
Simple 'push-on' manual installation to the edge
Secure fixing without drilling, screwing or sticking
You can find out more about cable management solutions with EdgeClips on our cable clips for edges page.

Screwable and self-adhesive cable management
Wall cable management with screwable sockets: Q-Mount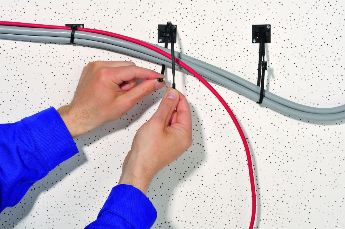 Our screwable Q-Mount series cable managers are predestined for use in the electrical industry. These can be perfectly combined with our Q-tie cable ties, which can be inserted from four sides.
The special design holds the cable tie in a vertical position so that both hands are free during installation. These are optimal conditions for temporary and permanent cable management, especially along walls.
Cable management system with self-adhesive mounts – FlexTack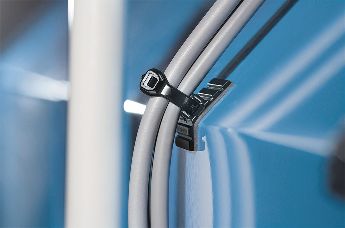 If screwing or drilling to attach anchor points for cable ties is not possible, then we have a simple answer – adhesive mounts. These self-adhesive accessories are suitable for fixing cords to various surfaces.
FlexTack is an especially innovative fastening solution for cable routing across curved or angled surfaces.
The advantages of mounts combined with modified acrylate adhesive:
High temperature resistance
High cohesive strength and good weather resistance
No drilling or screwing means reduced risk of corrosion
Weight advantage compared with mechanical fastening
Production costs can be reduced
Fast, simple and flexible installation
Further insights into our adhesive and screwable mounts can be found here.
Desk cable management
Cable organizer: Helawrap
Think of all the leads that run behind and under office desks, hi-fi systems or television sets. Not only does this tangle of cables look unattractive, it also poses a risk of stumbling. We have the solution for optimal and clean cable management at desks – the protective Helawrap cable cover. This is a plastic conduit made of polypropylene, which is easily pulled over the leads or cables with the aid a special tool – rather like using a zipper. This means that even longer cables can be bundled quickly and easily and branched out at different points.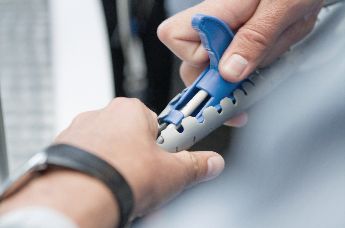 Advantages:
Easy and effortless to use
Good abrasion protection
Cable management over the entire length possible
Can be reused
Available in different colours (black, grey, white)
Protective braided sleeving: Twist-In
Another desk cable management idea is our Helagaine Twist-In series. This is a self-closing protective sleeving made of polyester. It not only ensures order, but also protects the bundled cords from abrasion. The design of the protective hose allows easy access for maintenance or additional cables at any time.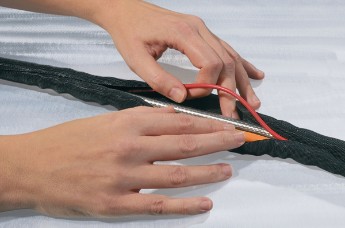 Advantages:
Self-closing protective sleeving made of polyester
Very good protection against abrasion
Ideal for subsequent installation
Easy, simple attachment and removal
Flexible cable management
Movable cable manager: Omega clips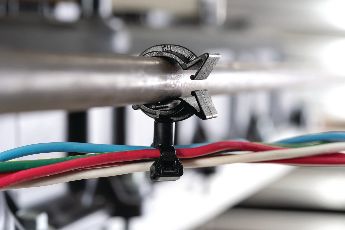 Flexible cable management of cables and wires in any direction is possible with our Omega series mounting clips. This series is characterised by the simple mounting of the clips on a cable, hose or pipe. They can be attached easily and are therefore suitable for retrofitting.
These Omega clipes are 360° rotatable and compensate the movement of the guided cables. These cable management clips particularly popular in the automotive industry for connecting cables with different rigidity.
Wiring duct: HelaDuct Flex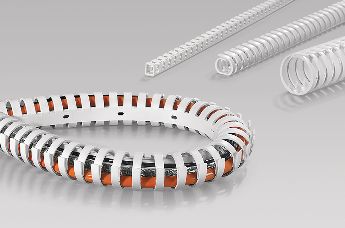 For many installers, flexible cord management systems are particularly important. It enables space-saving routing in many environments. Simple routing and optimum space utilisation make this flexible wiring duct attractive for use in panel building, for example, between the door and sides of a closure.
Simple routing and optimum space utilisation make the product attractive – especially for use in panel buildings.
This product offers further advantages:
HelaDuct Flex is fixed with adhesive tape, therefore no drilling is necessary.
Adhesive tape enables quick assembly.
HelaDuct Flex is extremely flexible and can be installed at an angle of 90° and higher.
ur flexible cable duct is easy to open and suitable for subsequent maintenance.
Cable management for special industrial applications
Cable management ideas for panel building
Cable management is one of the most important challenges for panel builders. Organized routing and protecting as many wires as possible in as few wiring channels as possible is the challenge. This interaction should create order that makes subsequent maintenance work as safe and convenient as possible for the electrician.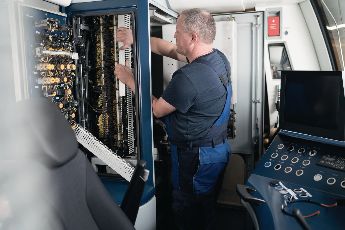 HellermannTyton launched the HelaDuct product series for this special form of cable management. It contains wiring ducts as well as specially developed retaining clips that prevent the cables from falling out when the cover is removed.
In addition, our range includes fastening elements and tools for edge-free removal of side wall segments and fingers.
The advantages of our cable management solutions in panel building:
Robust and halogen free wiring ducts made of high-quality thermoplastics
Easy removal of fingers for quick installation
Injury-free working thanks to burr-free edges
Screwless fixing of the ducts with plastic rivets
Cable ties can be attached in the ducts using special fastening elements
Further information and products around our panel building product range can be found in our brochure.
Cable management solutions for the heavy-duty industry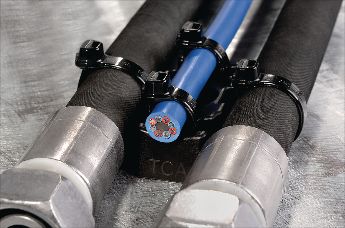 In heavy-duty applications there is a risk of cable damage and defective bundling on account of sharp-edged metal mounts. In order to prevent this, we have developed the Saddle Mount series for heavy-duty applications.
These robust plastic parts are permanently mounted with threaded bolts or screws and guarantee a secure hold, even with strong vibration. Electrical cables and pneumatic or hydraulic hoses can be fastened with cable ties. This type of cable management allows up to three parallel bundles to be securely routed.
Further advantages:
Lower weight compared to a metal product
Bundle protection due to smooth surface
Thermal, electrical and vibration decoupling
Cable management products for the wind industry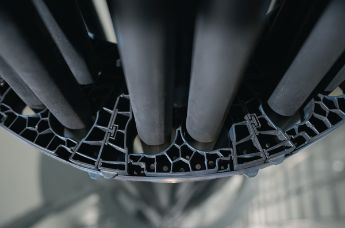 In the wind industry, routing cables and wires inside the loop, where the rotatable nacelle meets the tower, is a particular challenge because these cables are subject to constant twisting. We developed the Loop Spacer to prevent abrasion between the cable sheaths.
It is easy to install using a click system, creates order and also improves the cooling behaviour of the cables.
FAQ – Frequently Asked Questions
Why is cable management important?
Cable management is essential for several reasons. It helps maintain a clean and professional appearance, reduces the risk of accidents or tripping hazards, improves airflow and ventilation, facilitates troubleshooting and maintenance, and makes it easier to identify and access specific cables when needed.
How can I organize cables behind my desk?
To organize cables behind a desk or entertainment center, start by unplugging all devices and removing unnecessary cables. Use cable ties, Velcro straps, or cable sleeves to group and bundle cables together. Keep power cords separate from data cables to avoid interference. Use adhesive cable clips or hooks to secure cables along the back of the furniture or wall. Consider using cable management products like cable wiring ducts or cable trays to conceal and route cables effectively.
What is the difference between vertical and horizontal cable management?
Vertical cable management focuses on the organization and routing of cables in a vertical direction, typically within server racks or network cabinets. It involves using vertical cable managers, such as cable trays, vertical cable rings, or cable management arms, to guide and support cables from top to bottom.
Horizontal cable management, on the other hand, is concerned with the organization and routing of cables in a horizontal direction, often within the same rack or cabinet. It involves the use of horizontal cable managers, such as cable ducts, cable managers, or brush strips, to route and secure cables side to side or front to back.
Why is good cable management particularly important in the automotive industry?
Good cable management is highly important in the automotive industry due to the complex electrical systems and extensive use of cables and wiring harnesses in modern vehicles. Proper cable management ensures that the cables are routed correctly, secured in place, and protected from damage, which helps maintain essential functions such as engine control, lighting, entertainment, safety features, and communication.
With the growing trend towards electrification and advanced technologies, the number or cables as well as the need for proper insulation increases. Organized and properly routed cables also minimise the risk of electrical faults, improve safety and enhance the overall reliability. Furthermore, effective cable management streamlines the assembly process improving production efficiency. Last but not least, the automotive industry strives to optimize weight and space savings. Good cable management reduces cable clutter and unnecessary cable lengths, ensuring efficient use of space.