Trends in brief –
solar industry update September 2021
0
Catch up on the latest news and trends in the solar energy industry.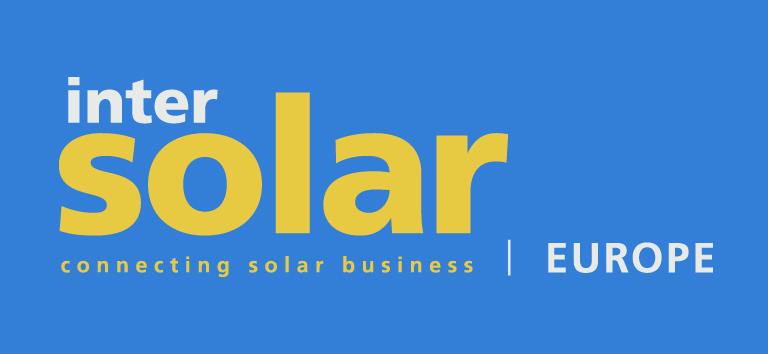 Kick-start for Intersolar Europe
Good news for the solar industry and its providers. Preparations are going ahead to kick-start Intersolar Europe, the world's leading solar industry exhibition, after it was cancelled in 2020 due to the pandemic and rescheduled to October in 2021. Organisers say that 800 exhibitors intend to take part this year. Intersolar Europe is held in Munich and is one of four energy exhibitions under the umbrella of "smarter E Europe". The other three are "ees Europe", "Power2Drive Europe" and "EM-Power-Europe", all of which are scheduled for 6-8 October 2021. In a nod at the unusual conditions, this year the event is being held under the name of smarter E Europe Restart 2021.
Not surprisingly given the pandemic, the number of registered exhibitors is down from 1,354 who participated in 2019, and visitor numbers are also expected to take a dent (20,000 according to the event website).
Intersolar Europe focuses on photovoltaics, solar thermal technologies, solar power plants, grid infrastructure and solutions for the integration of renewable energies. Not to be deterred, organisers are already making plans for smarter E Europe 2022, scheduled for May 11–13, 2022.
Focus topics in 2021 are the growing European PV market, new solar cell technologies, smart and multi-talented inverters, the growth of power purchase agreements, and agricultural and floating PV installations.
If you want to find out more, go to the Intersolar Europe website.
First floating PV installation in Montenegro
On the topic of floating PV installations, Montenegro is set to get its first floating PV power plant. The national energy company Elektroprivreda Crne Gore (EPCG) has announced plans to construct a floating solar power installation on Lake Slano, located near the town of Nikšić about an hour's drive north from the country's capital Podgorica. The company gave no details on the expected capacity, but noted that this lake with a surface area of ​​8.89 km2 is not a tourist area and the installation will be in keeping with its approach of mitigating negative impacts on biodiversity. It points to studies indicating 12.5% greater efficiency of floating PV installations compared to rooftop and land installations.
Europe's currently largest floating PV installation is near Avignon, France, with 47,000 solar panels supplying around 5000 households with a 17 mW capacity.
You can read more about this here.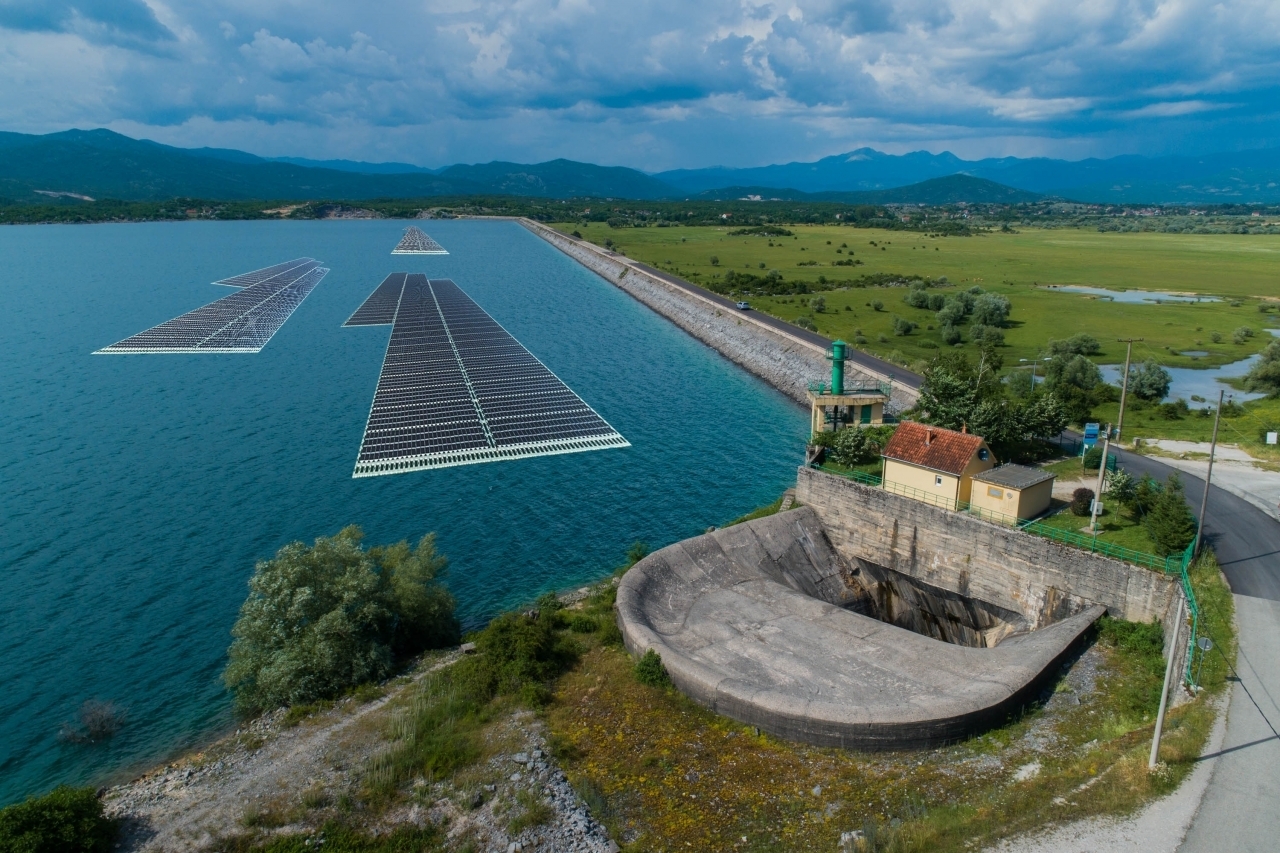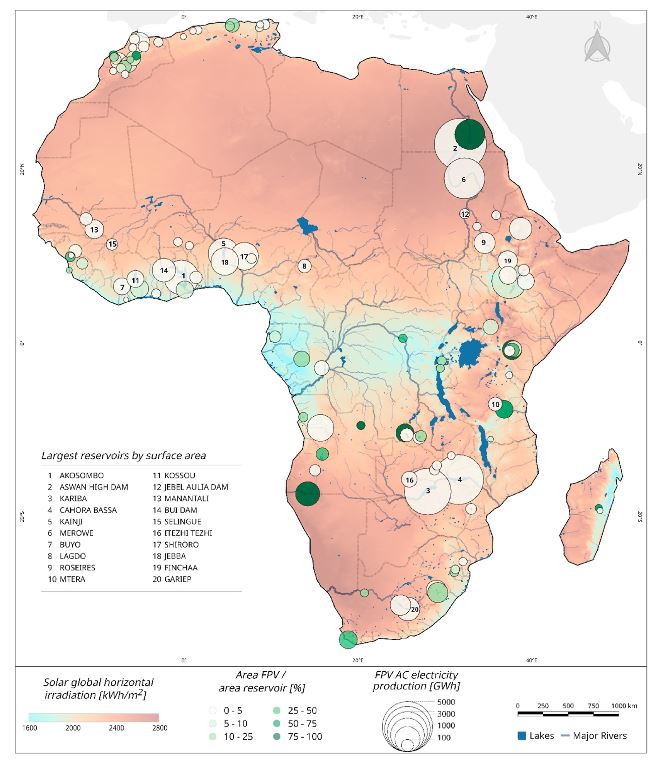 Floating PVs a win-win for Africa
A report issued earlier this year by the European Union says that "installing floating photovoltaics (PV) on 1% of the area of African hydropower reservoirs ... could double the current hydropower installed capacity and increase by 58% the electricity output." It points to the high dependence in Africa on hydroelectric power generation, coupled with a water scarcity on the continent that is impacting the amount of electricity capable of being generated. According to the report, the prospects are good in Africa as a whole, with an annual total sum of 2000 kWh/m2 of solar irradiation on 85% of the continent. This compares to a range of about 1100 to 2000 kWh/m2 in EU member states.
The report points to numerous benefits of building solar installations, including the reduction of water loss through evaporation in reservoirs, and hybridizing hydropower plants that already exist.
We'll be following up. You can read the full study here.
PV installation continues to boom in Poland
And last, but certainly not least, given the boom currently taking place, Poland is leap-frogging up the solar ladder in Europe, with a total of 2.2 gigawatts (GW) newly installed in 2020, according to figures from Solar Power Europe and published in a press release by Intersolar Europe. Germany remains by far the market leader, adding 4.8 GW in 2020, ahead of the Netherlands (adding 2.8 GW) and Spain (2.6 GW). The market in Poland currently employs 8000 people, and has a volume of 2.2 billion euros. Small-scale systems account for about 75% of PV capacity in Poland, reaching 3 GW at the end of 2020.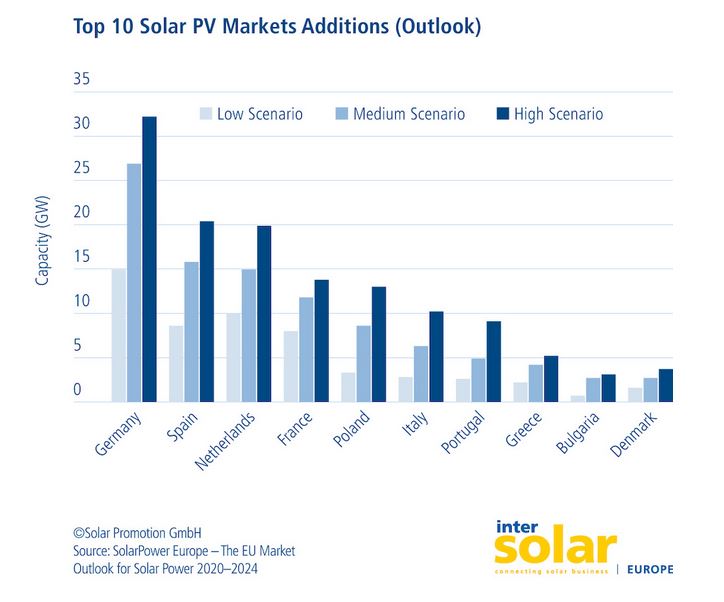 Contact our experts
Are you interested in finding out more?
Our experts are always ready to offer help and advice, and answer any questions.
CONTACT TEAM SUNSHINE