Cable management in the automotive industry
From automotive engineering dreams to reality.
We work hand-in-hand with customers in the automotive industry to design and produce lightweight and multifunctional components that fasten and protect the electronics and wiring in vehicles. Our goal is to give automotive innovators the freedom to create the future of mobility – today.
Cost-saving solutions that keep sight of the big picture.
When it comes to pioneering cable management solutions in the automotive sector, the main aims are to cut development times, reduce weight and minimise the number of different parts. It's not enough to focus solely on cable management in the automotive industry. Our specialists are well versed in the sector and always keep sight of the big picture. As a result, we deliver solutions that meet your standards and objectives whilst optimising your processes. After all, materials selection, vibration control, soundproofing, slip resistance, leak prevention and many other automotive challenges fall within our remit of cable management in the automotive industry.
As a manufacturer, HellermannTyton also guarantees the availability of customer- or vehicle-specific products. All tools are securely stored and always ready for use.
Wherever you need us. We're just a short drive away.
HellermannTyton is your global partner when it comes to cable management in the automotive industry. We produce and develop solutions, and support you, with more than 5,400 employees in 39 countries. As we do so, our aim is to deliver top-quality components and outstanding service at all times. We support our customers locally and bring our considerable development expertise to bear on-site, enabling us to combine international planning reliability with local proximity. Anyone who works with us always benefits from the personal touch. It's something that matters to us.

Cable management in the automotive industry:
the global market leader for vehicle construction solutions.
HellermannTyton is synonymous with high-quality plastic products and successful cable management in the automotive industry. Our products can be found in virtually any car; whilst this is a source of pride, we still keep our feet firmly on the ground. We have been rolling up our sleeves for more than 30 years to offer an even better service and deliver uncompromising quality assurance – and have learnt that automotive progress can only be achieved in partnership. Our developers are team players who work closely with our customers, always taking the latest market requirements as a starting point. Indeed, they are increasingly developing fully customised solutions. A wide variety of parts in our automotive product range are tailored to specific customers or vehicles.

Superior product features for your vehicles.
HellermannTyton offers the perfect solutions for cable management in the automotive industry: from bundling and protection through to the labelling of cables and pipes – whether from our existing product range comprising more than 75,000 items or as a tailor-made development.
Holds on where other solutions lose their grip: the EdgeClip series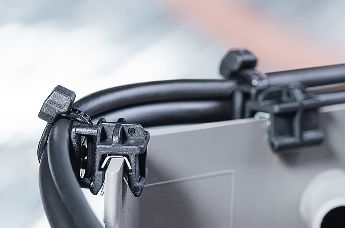 EdgeClips represent the perfect solution wherever drill holes and welding studs are not feasible and wherever temperatures are too high for adhesives. When simply moved by hand, EdgeClips gain a firm grip on edges – and, for example, can be used to bundle and hold in place cable harnesses and conduits – thus allowing perfect cable management in the automotive industry.
Robust and multifunctional: the Ratchet P-Clamp.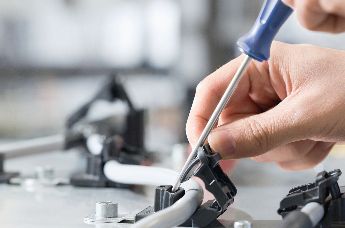 RC Series products enable the flexible management of wires, cables and conduits. Delivering the same level of stability as a fixed connection, the ratchet closure design offers an easy release function. To enable speedy adjustments and maintenance, it is possible to reuse the clamp without having to remove or replace any screws – for seamless cable management in the automotive industry.
Keep all your electrical connections safe with SA47-LA heat shrinkable tubing.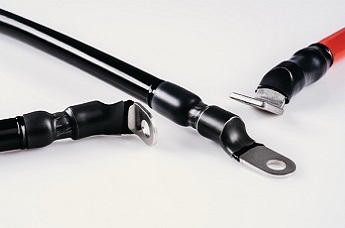 Heat shrinkable tubing SA47 offers three degrees of protection for electrical connections, such as those found in the engine compartment. Firstly, it offers excellent protection against moisture and corrosion. Secondly, it is resistant to typical automotive oils and fluids. And thirdly, the use of a black adhesive in combination with a transparent heat shrinking tube enables a final visual inspection by means of distributing the adhesive.
Safe passage for sensitive electronics: Helagaine HEGEMIP braided sleeving.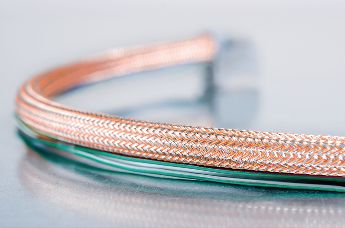 HEGEMIP braided sleeving provides highly sensitive electronics with reliable protection against electromagnetic radiation, thus preventing any interference with the infotainment system, digital connectivity or in-car electronics. What's more, the braided sleeving also offers exceptional abrasion protection and prevents kinks or tears – even at angles of more than 90°.
Permanent and durable: Helatag 1201 labels.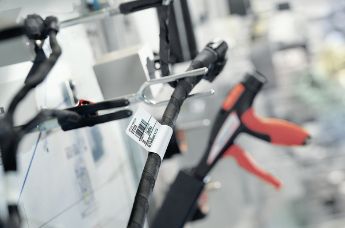 1201 thermal transfer labels ensure excellent legibility whilst offering high durability and abrasion resistance. Our materials and printer ribbons have been precisely tailored to the needs of the automotive industry. When used in conjunction with special printer ribbons (TTDTHOUT), the labels ensure print with outstanding chemical resistance and can withstand operating temperatures of -40°C to +150°C. To ensure seamless printing of the labels and therefore straightforward cable management in the automotive industry, we recommend our printer systems, printer ribbons and the TagPrintPro software program.
Autotool CPK hybrid for the automotive sector.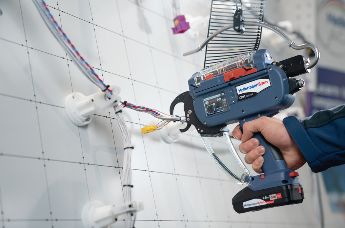 Autotool CPK hybrid is an automated and process-reliable cable-tying system that is ideally suited for bulk application of cable ties on wire harnesses. This unique tool processes cable ties much quicker than application by hand. The fast cycle time of 0.65-1-0 sec. per binding helps to significantly reduce the time spent manually threading and fastening ties. HT Data Management CPK software (included) enables export and evaluation and documentation of each and every binding process.
Autotool System 3080 to speed up your cable bundling in the automotive industry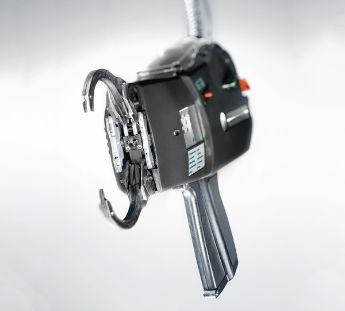 The Autotool System 3080 (ATS3080) is an automated and electric cable tying system that has been developed to speed up bundling processes and operates waste-free. Saving time through speed means saving costs. With this tool you can bundle cables with a cycle time of 1.1 to 2.4 seconds per cycle, depending on the bundling diameter. The advantage of three quick-changeable jaw sizes allows the ATS3080 to adapt perfectly to different bundle diameters up to Ø 80 mm.With either the Bench mount kit 3080 or the Overhead suspension 3080, the Autotool System 3080 is suitable for both stationary and flexible applications. It can also be integrated into fully automated production lines. Special designed jaws are available to enable bundling of foot parts on production lines.
Electric mobility goes hand in hand with ingenuity. At least when we're involved.
The automotive industry never stops evolving. Companies that previously had nothing to do with the automotive sector are on the rise. Whether an established player or a newcomer – everyone is faced with the challenges of ever more demanding safety standards and specifications. It's also important to strike the right balance between economic and environmental aspects. HellermannTyton possesses the necessary development expertise.

We design tailor-made products in line with your specifications for cable management in the automotive industry. Get in touch with us.
Cut development times. Real-time consultation between our product developers and your engineers makes it possible to save time in the development phase – even for parts whose installation space has yet to be finalised.
Reduce weight. Replace metal with plastic – without compromising on quality or performance. Injection-moulded parts by HellermannTyton offer geometric design freedom that, in turn, facilitates the integration of further functional elements; what's more, they are corrosion-resistant for durable cable management in the automotive industry.
Minimise the number of different parts. Thanks to targeted cable set analysis, we are able to present you with cost-optimised alternatives, preferred parts and component optimisations. Choose the right material. Thanks to our many years of experience, we can help you make the right decision. If the right material for your application is not yet available, we will develop it in conjunction with you and our raw material suppliers to deliver optimum cable management in the automotive industry.
You win automotive awards. And we win your trust.
As a leading provider of cable management in the automotive industry, we adopt a professional approach to industry-specific requirements. In other words, you can rest assured that all products comply with the stringent standards in the automotive sector.
(ISO 14001, ISO 9001, IATF 16949, DE AEOF 100652 certification)