Our new heat shrink tubing selection guide: Find the right product even faster!
HellermannTyton offers the right heat shrink tubing for your application with an extensive range of materials, shrink ratios, sizes, colours and lengths. With this multitude of products, sometimes it can be difficult to see the big picture and choose the solution that best fits your needs.

Therefore HellermannTyton have designed a very practical selection disc for our heat shrink tubing which takes you straight to the product you are looking for.

The heat shrink tubing selection disc gives you the overview you need and helps you navigate through our wide variety of products. The symbols indicate which tubing has the properties you are seeking.
The colour coding helps you focus on the relevant properties. The reverse side of the selection disc gives you an overview of the different tubing sizes and guides you in selecting the correct heatshrink tubing size.


Heat shrinkable tubing with a shrinkage ratio of 3:1 is easy to find.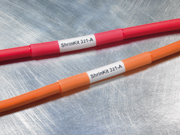 Adhesive lined products are clearly marked.

Different packaging sizes are readily identifiable.