FlexTack Cable Tie Mount
Date: 19/10/2017


FlexTack Cable Tie Mount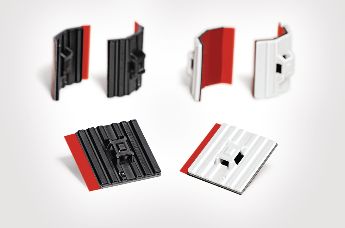 HellermannTyton's FlexTack keeps cable management ahead of the curve
The process of securing cables to curved surfaces in industrial applications has been made easier following the release of a new flexible, self-adhesive cable tie mount designed for use on angled surfaces.
HellermannTyton has introduced to the market its new FlexTack solution, a product which offers a more convenient and flexible alternative to cumbersome nut and bolt cable tightening. The process for securing cables to uneven surfaces via traditional fastening methods can be labour-intensive, largely due to the presence of bulky components and accessories. This can have implications for the design of new products, which may need to be modified to accommodate inflexible cabling. This adds further complexity to the design process. By contrast, FlexTack provides a more efficient and convenient way of securing cables to round edges, granting OEMs greater design freedom.
The product was conceptualised and designed following a cabling conundrum that HellermannTyton experienced itself. Whilst building a new M-BOSS printer the business experienced a requirement to mount cables over the printer motor, which had a cylindrical surface. Space was at a premium inside the printer so routing cables around the motor was simply not an option, prompting the business to design and manufacture an alternative in FlexTack.
One of the primary benefits of this solution is derived from the use of a high performance, high strength acrylic adhesive that can withstand temperatures of up to 950ºC, making it suitable for demanding industrial applications. The unique design of FlexTack allows for the product to be easily manipulated to position flush against the contours of a surface, allowing for weight to be equally distributed. Over time, this helps to reduce the degree of strain on the component, ensuring greater reliability and a more secure mount.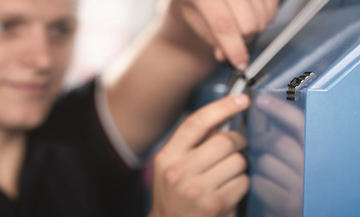 The FlexTack-Series has been designed for maximum ease of use in difficult to secure applications. Moreover, the parts are fully compatible with HellermannTyton's existing T-Series, Q-Series, X-Series and OS-Series cable ties, making it ideal for applications where a standard mount will not suffice.
Richard Rands, Product Manager – Fasteners and Fixings at HellermannTyton, explained: "We recognised that there was an unmet demand within the market and saw a real opportunity to tailor a solution which addressed this. So many industrial applications require cables to be mounted onto curved surfaces or around corners, which can be a difficult process at the best of the times. FlexTack eliminates these design challenges by allowing for this to be done quickly, conveniently and cost-effectively."