Cannock UKDC is now open!
Date: 18/01/2017


Cannock UKDC is now open!
This brand new distribution center was opened in November 2016 and has office capacity which has increased by 90% over the previous facilitiy in Aldridge.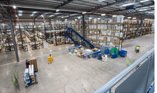 Warehouse facilities: HellermannTyton Cannock UKDC can now offer first class facilities for our customers to use. The new warehouse facilities offer 75,000 square feet of warehouse space.
5000+ pallet spaces which is a 70% increase over the previous site. 4 dock level access doors to the yard ares which has now increased by 400% compared to the old facility.
It has a 3 tier picking tower and conveyor belt to the packing area together with a brand new fleet of handling equipment.
A brand new warehouse management system has also been implemented which was supplied by Infor Ltd.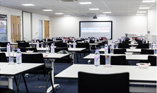 Conference facilities: HellermannTyton UKDC can now offer our customers meeting rooms, conference facilities where we can host conferences for up to 60 delegates utilising our meeting facilities.
There are 4 other meeting rooms available with AV and are able to accommodate 6-18 delegates with full facilities.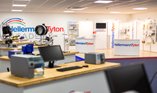 ADADEMY facilities: The ACADEMY which is located at the Cannock UKDC is an interactive training area, exhibition area and full product familiarisation facilities.
For further information on any of these facilities or to make enquiries on the availability of meeting rooms etc please call Claire Philpott on 0808 1642204 or e mail Claire on:
claire.philpott@hellermanntyton.co.uk