Solder sleeve reflector 34mm dia. : Solder sleeve reflector 34mm dia.
Article number: 391-00411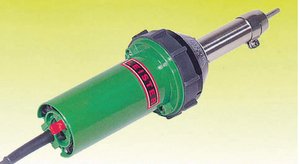 Features
The Weldy Pro and Plus are compact, lightweight heat guns. They are designed for use with all types of heatshrinkable tubing and shapes. The Weldy Pro has an adjustable temperature range from 100°C to 550°C, whilst the Weldy Plus gives a maximum 650°C. For ease-of-use the Plus also includes a handy LCD display to show air temperature and application.

The Triac-S is specifically designed for long running bench work. It features a high temperature element protected by thermal cut-off and a stay cool nozzle. The temperature range is from ambient to 600°C. Nozzle accessories are avaliable upon request.
Solder sleeve reflector 34mm dia. is suitable for following markets and industries
Pack Cont.
1

pc.

Package Quantity per
Bag
PART DESCRIPTION
Solder sleeve reflector 34mm dia.
Type
G57C