Heat-shrinkable Moulded shapes
Heat-shrink shape solutions that meet your special demands
Your one-stop heat-shrink moulded shape specialist

Decades of collaboration with customers in numerous industries qualify HellermannTyton as an ideal partner for standard and tailor-made part solutions. HellermannTyton's heat shrinkable moulded shapes combine the advantage of quick, easy installation with high electric strength, mechanical toughness and superior chemical and environmental resistance.
New technologies place high demand on design and construction
We can contribute positively to acceleration of development and production processes whilst helping you to ensure high quality standards and maintaining cost-effectiveness.
Selection Guide for Heat-shrinkable Moulded Shapes
6 steps to choosing the corrrect moulded shape: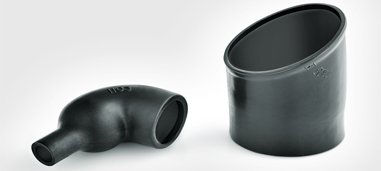 Step 1 - Product Style
Use the selection guide overview below to quickly select a suitable product profile.
Step 2 - Product Size
Choose the correct dimension to meet your application from our sizes and types table which appears on the relevant product profile page.
Step 3 - Material/Adhesive
Choose a material and adhesive to meet your requirements from our overview in the Heat Shrinkable Moulded Shapes brochure below.
Step 3.1 - Material
Parts can be supplied in a choice of materials. The 'combinations' table on each product page of our brochure provides a quick and easy material recognition guide for the product profiled. The range of materials can also be found in the overview section in the Heat Shrinkable Moulded Shapes brochure below.
Step 3.2 - Adhesive
To maximise environmental protection and strain relief we recommend the use of an adhesive form our range below:
Pre-lined hot melt adhesive
Component adhesive:
Step 4 - Standard combinations
To help with your decision we offer standard combinations for each product type. Please see our selection guide within the Heat Shrinkable Shapes brochure.
Step 5 - Special Modifications
Filler ports and drain holes are also available where the injection of potting epoxy is required.
P = filler ports for potting - 3mm dia. vent and 4.5mm dia. filler
D = drain holes for offset - 3mm dia. at H end equally spaced 90 degrees apart
Step 6 - Ordering Procedure
When ordering heat shrinkable shapes, it is necessary to give a complete part number to enable efficient processing of your order. Part numbers can be made up of the following typical components: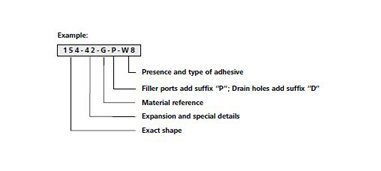 Download the Heat Shrinkable Moulded shapes brochure here.......