Security Products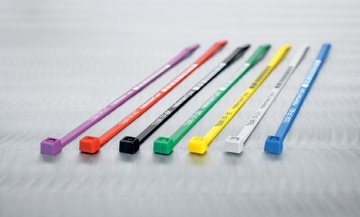 HellermannTyton uses the latest print and moulding technologies to ensure you the best possible custom print on our standard range of security cable ties and seals.
We can also fulfil your requirements for security products. Our designers and engineers understand your security scenarios and can help develop the ideal bespoke products.
Printed Cable Ties are a new addition to the range and can be custom printed to suit your requirements and can be used for endless applications such as:

Identifying cables and pipes
Creating an Audit Trail
Sealing waste bags
Tagging equipment such as cranes and hoists after servicing to show their compliance to Health and Safety regulations
Laser beam printing - extreme print resistance
Pre-marked to customer requirements
Very good character legibility
'Burnt'in text resists very high weathering and UV light
Excellent resistance to a variety of hydrocarbon, chemicals, acids and alkalis
Thermal transfer printing - high definition graphics
Pre-marked to customer requirements
Excellent character legibility
Ability to print barcodes and complex graphics
Text in black or white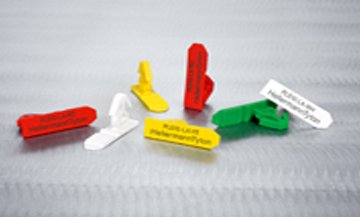 Plastic Plug Seals - custom printed PLS10SEQ and plain SEQ
The PLS range incorporates tabs that when lifted and twisted, enable the top and bottom sections to break away at specifically designed points. This allows the seals to be removed without the need for any cutting tools.
The Pluglok seals are made to fit the majority of boxes from the main attached lid container manufacturers (Schoeller Arca Systems, Alibert Buckhorn, Paxton and Linpac) and can be printed with a unique serial number. This allows a secure audit trail to be created and easily alerts users of the system that a package or shipment has been tampered with. Various uses are:

Airlines
Banking
Retail and distribution
Postal services
Healthcare
Leisure
Police
Prison Services