TT4030 Thermal Transfer Printer
Date: 21/08/2017


Electrical Installers urged to use new technology when identifying cables
Industrial Identification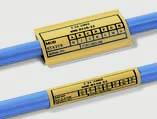 Electrical Installers are being urged to benchmark themselves against the stringent safety and performance standards of industries such as rail, aerospace, and automotive when it comes to ensuring maximum reliability in cable identification.
In industrial environments cable markers and labels must be able to withstand regular exposure to aggressive operating conditions. Every cable must be clearly identifiable to ensure compliance with legislation, which is particularly stringent in the rail and automotive sectors, and so it is advisable to eliminate any margin for error by using a heavy-duty printer for industrial label printing. It is with this in mind that HellermannTyton has developed the TT4030, the next generation of its acclaimed range of Thermal Transfer Printers.
Thermal Transfer Printer TT4030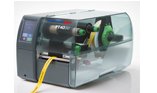 The TT4030 is the updated version of HellermannTyton's renowned TT4000+ Thermal Transfer Printer. This is an enhancement and brings a product to the range with state-of-the-art printing technology, ensuring consistent and reliable performance for high volume printing in different operating conditions common in rail and other industrial sectors. The TT4030 is optimally suited to industrial use and is designed for a wide range of applications. High reliability and multiple peripherals enable applications and solutions tailored to specific customer requirements. This printer is perfect for printing onto materials such as self-adhesive labels, shrinkable tubing and identification tags.
By removing the manual element of cable marking, industrial printers such as this ensure that cables are clearly identifiable and can be easily accessed for maintenance works further down the line. Contrast this with more traditional methods whereby labels are handwritten. Not only does this take longer, unclear markings may also take longer to read, impacting on overall productivity. Where labels are illegible, the margin for potential safety risks is also greatly increased. By adhering to the high standards set industry for all cable identification activities, installers can make life cycle maintenance easier and save considerable time.
Consumables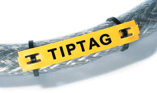 The TT4030 has been specially developed for maximum ease of maintenance, which can be carried out anywhere without the need for special tools, resulting in shorter maintenance lead times and greater overall productivity. The additional cutter and perforator functionality enables further time savings. The TT4030 Thermal Transfer Printer is packed with 21st century technology such as Wi-Fi and ultra-fast processors that further enhances the time saving elements of printing markers with this method.
Mary Butler, Product Manager – Identification, at HellermannTyton, explained: "The TT4030 builds on many of the strengths of the previous model but has been designed to provide even greater durability and ease of operation for electrical installers. We recognise that reliability and efficiency are absolutely critical and we have provided a solution that addresses these requirements.