Yellow Metal Detectable Cable Ties
Date: 18/06/2018


A new metal detectable cable tie has been developed by HellermannTyton
The tie gives food manufacturers improved visibility and traceability of potential contamination issues.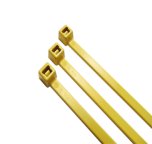 Contamination of food or beverages with foreign objects is a concern on all food processing lines. If undetected, contaminants can threaten the lives of customers, damage brand reputation, or have cost implications in terms of legislative fines or product recalls. Plastic is a significant cause of contamination; indeed, the Food Standards Agency has issued 10 alerts around plastic contamination since the beginning of 2017.

Standard plastic cable ties are an oft-neglected issue in this regard. Hundreds or even thousands of ties will be used throughout food manufacturing facilities to keep cables secure, especially where machinery is installed above production lines. In environments where such machinery is regularly cleaned, there is the risk of ties breaking or becoming dislodged due to the effect of the chemicals and cleaning agents, where they might contaminate food on the line.

To combat this, all HellermannTyton Metal Content Tie (MCT)-Series products contain a fine metal pigment, allowing them to be detected and rejected by food grade detection systems. The cable ties are manufactured in a food safe raw material, providing compliance to European food contact standards and Food & Drug Administration (FDA) requirements.

Previously, HellermannTyton only offered a range of blue pigmented MCT-Series cable ties, chosen because of their ease of visual detection given the rarity of blue food products.

The first new detectable coloured cable tie is the MCT50L Yellow, available from HellermannTyton or through any UK electrical wholesaler or distributor. It is supplied in 380mm x 4.7mm, a length that makes it ideal for most food environment applications.

The decision to add further colours is based on HellermannTyton's experience in dealing with food manufacturing customers. "It's common for food manufacturing facilities to colour code different parts of their process. In the event of contamination, the source can be identified and traced back to a particular process." explains Richard Rands, Product Manager at HellermannTyton.

"It makes sense for cable ties to be colour-coded in the same way. Detectable coloured objects – such as pens, scoops and stirrers – are already widely used in the food industry. By extending the colour options in our MCT-Series detectable cable tie range, we're helping food manufacturers to integrate cable management into their existing colour-coded safety procedures.

This means that, when a contaminant is detected, the source can be traced back quicker, helping manufacturers to isolate affected batches and minimise downtime or wastage."

HellermannTyton is working on further colours to be launched later in 2018. This will give food manufacturers a suite of colours to use across different processes, such as ingredients, blending, processing and packaging. The company also offers a range of RFID-tagged and X-ray detectable cable ties, cable tie mounts, ID markers and a range of detectable cable protection solutions – all to support food manufacturers with identification and traceability.

The launch reinforces HellermannTyton's commitment to supporting end users in the food manufacturing industry with their specialist cable management needs. "As well as our suite of products for food and beverage processing, we provide consultancy to some of the sector's biggest names to identify and resolve their challenges, in a safe, compliant and effective way," Richard confirms.