M-BOSS Compact Metal Plate Embossing Printer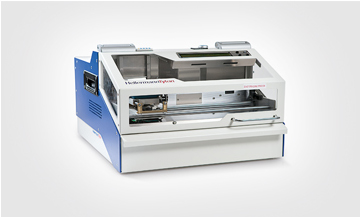 1.5 million strikes per character without maintanance!!
M-BOSS Compact is a quiet easy-to-use metal plate embossing printer with a small production footprint. It is simple to install and operate and only needs a standard electrical supply and a PC. Texts are created with Tagprint Pro 3.0. Simply open the easy to use program to create print lists.
Improved cooling system now ensures a continuous operation between 8-10 hours.
Marker plates are attached to pipes and cables using 4.6mm width MBT cable ties and a MK9SST hand tool.
Features and Benefits
Small and easy to use metal plate embosser
Quiet embossing mechanism suited to production and office environments
Emboss the first marker within a minute of power up
Improved cooling system allows 8-10 hours continuous printing
Powered by a standard electrical supply
Printer is delivered with 45 piece 4mm character set mixture of letters, numbers and symbols
Use the Tagprint Pro 3.0 labelling software with pre-loaded templates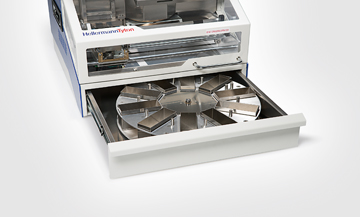 M-BOSS Compact and Organiser system gives the added advantage of a self-contained storage system within the print unit.

The organiser is a 10 container carousel storage system that can be programmed to hold either an individual or a pre-defined set of marker plates. This means that users have the flexibility to manage how they work with the printed output. A simple input screen on the top of the machine is used to specify the quantity per container within the carousel. The carousel drawer when opened extends 430mm from the front of the printer.
Features and Benefits
Ability to manage how the printed marker plates are organised
Carousel system under the printer has 10 removable marker plate containers
Flexible output means all marker plates or a set amount can be sent to each container
Carousel system will hold up to 400 markers
Each container can hold 40 marker plates
M-BOSS Markers are used in all areas where severe mechanical or chemical conditions occur e.g. offshore industry, marine engineering, petrochemical industry, mining, underground or on radio and cellular masts where mark permanence is critical. The raised surface of the embossed print ensures that the text remains visible even with dirt, grease, and paint cover the marker.
The physical characteristics of the metal and the height of the embossed mark allows users to apply a stiff or metallic brush to the surface and remove excess layers of paint or grease without damaging the integrity of the text.
Features and Benefits
Raised marking ensures text visibility even when covered in dust, debris, grease and oil
Stainless steel grade SS316 is suited for use in harsh environments
Marker plates are designed for use with stainless steel cable ties with a 4.6mm strap width
Apply ties with a MK9SST tensioning tool