Why it pays to invest in professional cutting tools
Date: 21/09/2017


The role of professional cutting tools...
Cable Cutting Tools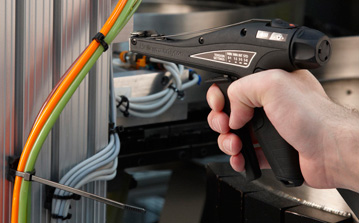 Why it pays to invest in professional cutting tools. The range of application tools on offer stretches from gas operated hot-air guns through manual and pneumatic cable tie guns to fully automatic cable tie guns for industrial serial production.
Ask any electrician what their most valuable tool is and they will probably tell you their hands. Whilst the products we install are becoming more technologically advanced, the methods we use to install them are still primarily manual. This creates potential safety problems for electricians, particularly when installing cable management solutions, which often require repetitive hand, wrist and arm actions. Add to this the fact that electricians are having to work in environments with space restrictions, and the safety risks involved in cutting cables, and it's easy to see how accidents can happen.
In this feature, Jasmina Prill, Associate Product Manager Fastenings & Fixings at HellermannTyton, looks at the role professional cutting tools can play in reducing the risk of injury in the electrical industry.

When you think about the injuries associated with the electrical industry, many professionals cite electrical shocks and burns as some of the biggest dangers associated with the job. Whilst these hazards do exist and can be fatal, electricians also need to be equally aware of the skeletal risks related to the repeated use of hand tools. Repetitive Strain Injuries (RSIs) and musculo-skeletal disorders (MSDs) are all common in the industry and can be avoided by not only selecting the right cutting tools, but understanding how to use them effectively as well. However, many trade professionals have defined budgets and find it difficult to justify expenditure for professional cutting tools when in theory, standard instruments will suffice. Under the Health and Safety at Work Act 1974 and Management of Health and Safety at Work Regulations 1999, all employers have a legal duty to try and prevent RSIs from happening and to ensure that anyone who already has the condition does not get any worse. This means it is important to identify areas where tasks are being carried out that could cause RSI, risk assess these areas and implement the necessary precautions to minimise RSI and skeletal injuries.

Minimising injury risks
The installation of cable management solutions is one such area where the risk of skeletal injuries is high. Every time an electrician uses pliers or cutters to tension and cut cable ties, they are putting to work several muscles within their hands and wrists, and when this action is repeated throughout a project, the risk of serious injury increases. By keeping an eye on the application force, and the torque being applied in each application, electricians can start to the risk of injury.

While standard instruments such as pliers may be easily affordable and readily available, they do very little to help an electrician control application force and torque. Many hand tools come with a range of different handles allowing precision grip, but on the whole, they do little to help an operator evenly distribute pressure over the palm. When operators are unable to do this, they exert too much pressure on their wrists and fingers, which can lead to injury over time. An RSI or MSD may seem unlikely when just installing a small number of cable ties, but for electricians working on larger projects where repeated application is required, more professional and ergonomic cutting tools are essential.

It is for these projects that specialist cable management manufacturers such as HellermannTyton have designed professional application tools which are both ergonomic and safe to use, taking pressure and tension away from the operator. The majority of these are designed to fit comfortably in the hand, enabling electricians to deliver consistent performance with less force, thus boosting productivity whilst reducing the risk of injury.

Another potential health and safety risk is installers cutting themselves on a cable tie strap if it has not been cut off flush. The edges of plastic can become very sharp and cause cuts both to the electrician during installation, and to other people once a project has been completed. It could also potentially cut other cables or equipment, which is why using an appropriate application tool which delivers a flush cut is so important.

Repeated safety and performance
Of course, it is not just skeletal injuries that professional electricians and installers need to protect themselves against, but the risks associated with working in confined and awkward spaces as well. Assembly and installation tasks are becoming more complicated. Modern building designs rarely accommodate on-site space for electricians, which means that professionals are often tasked with tying down cables behind appliances, inside walls, and in very tight spaces. This is where specialised cable tie guns and cutting tools play an invaluable role in improving on-the-job safety.

There are many manual tools available which have been designed to take away the stress on the muscles of the operator when tensioning and cutting cable ties, and many offer the additional benefit that the tension can be set depending on the ties being used and the application. This offers consistent results adapted to the individual needs of the electrician. Automatic application tools also exist, which are designed for higher volume applications, applying, tensioning, and cutting ties in under a second, with a flush cut.

HellermannTyton has designed its manual EVO7 and EVO9 application tools to have a TLC, tension, lock and cut mechanism. This enables a consistent tension force that can be selected according to the needs of the operator, reducing the risk of RSI. When performing repetitive fastening tasks with manual instruments, it is easy for an electrician to lose concentration, misjudge the tension required, or even to accidentally cut themselves instead of the cable. Additional problems are created when electricians opt for scissors over professional cutting tools, since these rarely facilitate a consistent, clean cut in the same way that professional, pre-set cutting tools do. This means that sharp edges are often left on the end of the cable, which poses further safety risks. By pre-setting the tension and cutting force required with a professional hand tool, electricians can not only guarantee consistent quality, but safety and productivity as well.

An investment in safety, productivity, and quality
Often the price associated with professional hand tools are enough to put electricians off, which is understandable when you consider the lower costs associated with carpet cutters or pliers. However, many professional tools are widely affordable and it is difficult to put a price on personal safety, just as it is difficult to put a price on quality and reputation; considerations that professionals need to consider when filling their toolbox. When it comes to specifying the right professional cutting tool, priority should be given to products which offer repeatability, and which eliminate the potential for strains and injuries. Investing in professionally designed, ergonomic cuttings tools, which protect against skeletal injuries, reduce risks, and muscle strain is an investment that will pay off in terms of safety, productivity, and installation quality.