Secure cables with these fire resistant metal nail clips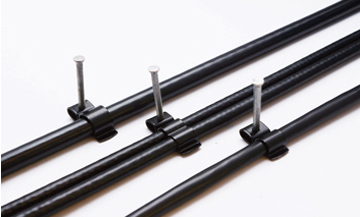 Following changes to the IET Wiring Regulations in July 2015 (BS7671 - 3rd Amendment, 7th edition), wiring systems in escape routes must now be supported in such a way that they will not prematurely collapse in the event of a fire.
This means that non-metallic trunking, conduit, cable ties and cable clips can no longer be used as the only means of support in areas that could from escape routes out of a building.
The metal cable clips provide a fire resistant cable fixing designed for use within mini trunking.

For fire rated applications it is recommended that the nail is secured into a hard, fire resistant surface.
Features and Benefits
Designed to secure cables within high temperature environments
within mini trunking - completely invisible once mounted
Flex design grips the cables and clamps into position, even in the event of a fire easily applied, simply fold the tabs over to retain cables
Manufactured from stainless steel 430 coating, making it discrete when fitted within commercial/building environments
Suitable for a range of cable sizes, from 4.5mm to 11.0mm diameter
No 8 (4mm) fixing hole for securing the clip to building fabric
Nail dimensions 25mm x 2.5mm
| | | | | | | |
| --- | --- | --- | --- | --- | --- | --- |
| TYPE | L (mm) | W (mm) | Hole Dia | Colour | Pack | Article No |
| SSNC4.5 | 14.3 | 7.0 | 2.5 | Black | 50 | 151-01599 |
| SSNC4.5 | 14.3 | 7.0 | 2.5 | White | 50 | 151-01604 |
| SSNC4.5TWIN | 19.0 | 7.0 | 2.5 | Black | 50 | 151-01602 |
| SSNC4.5TWIN | 19.0 | 7.0 | 2.5 | White | 50 | 151-01606 |
| SNC7.0 | 16.9 | 7.0 | 2.5 | Black | 50 | 151-01603 |
| SSNC7.0 | 16.9 | 7.0 | 2.5 | White | 50 | 151-01607 |
| SSNC11.0 | 20.5 | 7.0 | 2.5 | Black | 50 | 151-01609 |
| SSNC11.0 | 20.5 | 7.0 | 2.5 | White | 50 | 151-01609 |